The Top 3 Magento PWA Benefits
When the Internet first originated, it was limited to simple tasks and computer-computer communication. In comparison to the functionality today, if we were to stop using the Internet as we know it today and revert back to the early age of technology, even just for a day, many of us would find it pointless. As time moved on, the Internet has developed into a powerful network of limitless possibilities. Those possibilities expanded even further when mobile phones inherited browsing capabilities. Mobile experiences developed into what we have today fairly quickly in comparison, but at first, they were limited. If you wanted to open a web browser on your phone, it looked just like it would on a computer and made browsing difficult, if not impossible.
Since 2015, progressive web apps have been on the rise.
Progressive web apps (PWA) allow consumers to enjoy better mobile experiences
on commerce sites and have greatly increased the success of many online businesses. They deliver unbeatable experiences for mobile users and allow seamless browsing with integrated capabilities. PWAs are reliable, intuitive, and respond quickly to user actions—making them critical in the long-term success of any business today. PWAs save you space from apps that you only use once or twice a month, which is tremendously valuable in today's world of information overload. Now, instead of downloading hundreds of apps for hundreds of small tasks, you can use PWAs.
One of the best platforms for using, developing, and managing progressive web apps is
Magento PWA
. When PWAs started gaining traction, Magento saw the trend and realized it was going to be integral in the world of eCommerce and beyond. To make sure that they adapted and were able to meet the changing demands of the industry, they started transitioning into a progressive web application platform. Now, Magento PWA is leading the way and providing businesses and consumers with valuable benefits.
With Magento PWA, you can create and run online stores that have the same, if not more, performance capabilities of your favorite application. The added functionality will help improve conversion rates and increase profits, but there are also some other benefits that should be recognized. The
top three Magento PWA benefits are enhanced user experience and overall performance, built-in SEO capabilities, and affordability
.
1. Enhanced User Experience and Overall Performance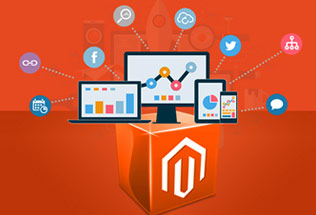 When you use Magento PWA, you get the best of both worlds. PWA works to bring together all of the benefits of mobile web development and the high-quality features from applications. By taking the best of each system, you reduce the limitations you face and gain more benefits. Magento PWA enhances the process of eCommerce sites and helps increase the rates of conversion from visitors to shoppers. Due to the speed and ease of use, you won't lose out on revenue caused by poor user experience or frustration.
Magento PWA's
enhanced user experience and performance features
come in the form of faster loading speed, pristine optimization across devices, offline capability and support, push notifications for every step of a shopper's experience, and easy, reliable payment options. All of these features allow you to give your visitors suburb online experiences without putting in extra work.
Faster Loading Speeds
Magento PWA's loading speeds are fast, which is integral to the success of any online business. The longer it takes for your site or app to load, the less likely you'll get conversions. This only takes 1 second to have an impact, so
making sure your site is as fast as possible should be at the top of your priorities
. Magento PWA helps to increase speed by reducing overall network traffic and focusing on an app shell. This app shell will load the first time someone uses it and then every time they open a Magento PWA, only the new information will need to load.
Optimized for Any Device
With Magento PWA, shoppers can access your eCommerce site on whatever device they prefer. Since the back-end language uses web coding, your shoppers won't be limited to one device or browser. Magento PWA works across all of the popular web browsers and more. Including, but not limited to, Chrome, Safari, and Firefox. Your customers will enjoy the easily accessible PWA benefits instead of wasting time and valuable space that comes with downloading and installing traditional applications. Magento PWA's native apps area easy to use and can easily be added to your favorite's bar or mobile home screen. While this sounds like it could diminish the quality of a site, the increased optimization won't take away from any immersive features.
Offline Capability
While Wi-Fi is almost everywhere there are still places that you'll be offline. With Magento PWA, the underlying web scripts are independent from the web page, which allows offline capability. The offline support means that your users will be able to load your eCommerce store and shop even if they're not connected. This alone has the potential of vastly improving conversion rates.
Push Notifications
From the original point-of-sale to delivery, Magento PWA allows your shoppers to stay informed on the details of their order through the use of immersive push notifications. Your shoppers and site visitors will need to sign up and opt-in for these features, but many people enjoy using them out of the increased convenience they bring. You can keep your shoppers engaged using push notifications about shipping confirmations or updates, special promotions, delivery of a product, showcasing new products, and much more. These simple reminders are a great way to keep your visitors engaged, active, and loyal to your brand.
Easy Payment Options
The harder it is for someone to go through and finalize their sale, the less likely they are going to do it. With Magento PWA, the payment options are secure, fast, and easy.
Your visitors won't abandon their cart
due to frustrating check-out processes or excessive information requests. Instead, they'll experience a streamlined payment option that will help you increase your conversions and build a loyal following.
2. Built-In SEO Capabilities
One important aspect about creating an eCommerce site is making sure that you're doing everything you can to be seen online. This means you need to implement some of the primary SEO best practices. With Magento PWA, there are numerous beneficial built-in SEO capabilities that can help make your life easier and get you a higher conversion rate. Magento PWA bypasses the traditional technical SEO needs and instead does all of the heavy lifting for you. Since Google and other search engines have updated their algorithm to crawl Magento PWA sites in the same way as a traditional website, all you have to do is make sure that you're including strong optimization strategies and setting your site up to be easily discovered. The main key to doing this is to make sure that your Magento PWA is indexable. With a strong crawlable sitemap, you'll
strengthen your overall SEO
and reap all of the benefits that follow.
3. Affordability
A lot of people that start to toy with the idea of using Magento PWA figure that all of these benefits must come at a high cost. That's not the case. Magento PWA is extremely affordable and will allow you to grow your business without absurd investments that will take years to see returns on. If you're a certified business owner, you can access Magento PWA and
create an eCommerce site
at a mere fraction of the cost of a traditional app. As long as you have someone on your team that understands development, you'll be able to go in and modify your Magento PWA on your own to get the results you need for your business. If you need something with higher capabilities, you can opt for more advanced Magento options and develop integrated workflows that will help you successfully address all of your business' needs. While advanced options are a little higher in price, there are more benefits and many companies will find that these benefits far outweigh the initial price. If you're unsure of what you need, start with the basics and you can always upgrade later.
Using Magento PWA is a great way to make sure that your business is running as efficiently as possible and will help you pave the way for success with your eCommerce business and more. If you're unsure how to start using Magento PWA, or would rather leave it up to the professionals, don't hesitate to get in contact with Plego Technologies today. Our team of trained professionals are here to help you get started on Magento PWA so you can reap all of the benefits and take your business to the next level. Call us today at
630-541-7929
to learn more or to
schedule a consultation
.