DesignRush Names Plego a Top Web, Mobile And Software Development Agency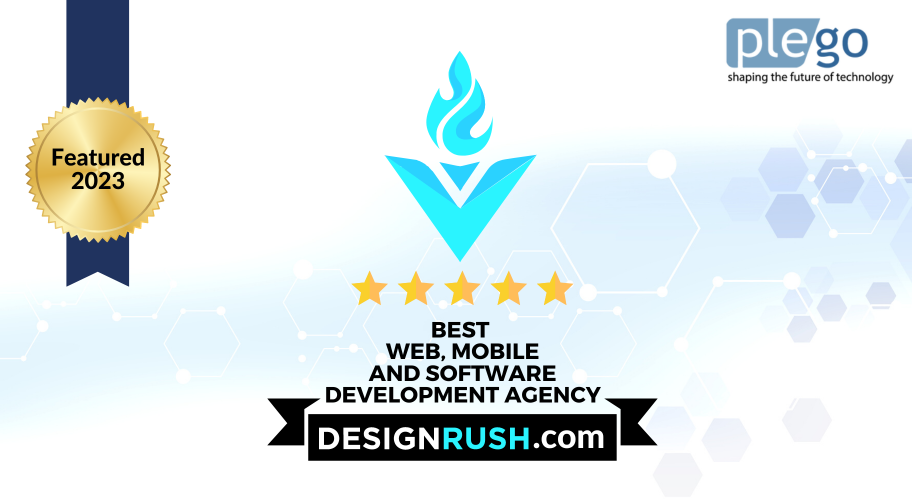 For seventeen years of high-quality and affordable web, mobile and software development services, Plego Technologies has been recognized as one of the Top Illinois Web Development Company by DesignRush This recognition is a testament to our commitment to delivering innovative and cutting-edge web development solutions to our clients in Illinois and beyond.
DesignRush is a trusted online guide to finding the best professional services in the digital space.
Their team evaluates thousands of companies across the globe and selects only the top performers in each category. We are proud to have made the cut and to be recognized for our hard work and dedication to providing exceptional web development services.
At Plego Technologies, we understand the importance of building a strong online presence for businesses of all sizes. Our team of experienced web developers and designers doesn't just create websites – we craft customized online solutions that perfectly align with your unique business goals and objectives.
Whether you're a small startup or a large enterprise, we've got the skills to elevate your business and take your online presence to the next level.
From website design and development to e-commerce solutions, and mobile app development, we've got it all covered. But that's not all – we also offer cutting-edge services such as Virtual Events, Interactive Touchscreen Experiences, Cloud Computing / DevOps, Machine Learning, and Artificial Intelligence.
Our mission is simple – to deliver comprehensive digital solutions that help our clients thrive in today's competitive market. Say goodbye to juggling multiple vendors and hello to a one-stop-shop for all your digital needs.
Plego Technologies, being recognized as a Top Illinois Web Development Company by DesignRush is a testament to our commitment to delivering exceptional web development solutions to our clients.
We pride ourselves on pushing the boundaries of innovation and excellence in everything we do, and this recognition inspires us to continue raising the bar.
If you're seeking a trusted partner to help you elevate your online presence and achieve your business goals, we invite you to contact us today. Our team of experts is dedicated to providing personalized guidance and support throughout every stage of the web development process, ensuring a seamless and successful outcome.
Let us help you unlock the full potential of your online presence – Contact us today to get started.