Which eCommerce Platform is Best for my Website?
If you're looking at running an online store, you'll need a program that allows you to do so with ease. That's where an eCommerce platform comes into play.
An eCommerce platform is a software application that allows you to make buying and selling over the Internet a reality. You can have a basic eCommerce platform, or one with multiple plug-ins that add functionality and increased features. Regardless of how you decide to customize your platform, the first step is deciding which one will be the best for your site.
That's right, you're going to have to choose… and there are hundreds of different platforms available.
It can be a bit overwhelming, but don't worry. We're here to help make the decision easier by giving you some advice on how to determine which eCommerce platform to choose. At the end of the day, it all boils down to what best fits your goals, resources and preferences2.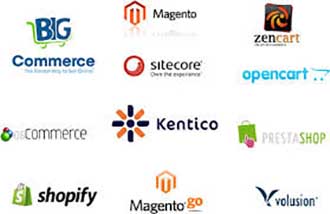 Bare Necessities
The first step in the process of narrowing down your options is to make sure that whichever platform you're considering offers tools to walk you through the process. If you're a beginner, look for a platform that includes everything from hosting, design, pricing and payment options, marketing tools as well as reports1. It will make your life easier once you begin the setup.
On the other hand, if you know what you're doing and have some background in web development, you can take a different route. If you're able to modify and maintain your online store on an ongoing basis, consider going with a platform that is self-hosted or has a few of basic features not included. It will save you a few dollars, but isn't recommended for everyone.
Make sure that the eCommerce platform you choose offers payment security. You will loose business quickly if your customers begin getting their credit card information stolen. Make sure that there is Secure Socket Layer (SSL) encryption so that payments can be sent securely1.
Sales
Another thing to consider is how much you're planning on selling and in what format. Will you have physical items that require shipping and handling? What about digital downloads? Are you considering a mixture of both, or just one? These questions matter. Especially when you're thinking about shipping costs and using a platform to support them.
Find an eCommerce platform that supports whatever type of sales you will be making, but also one that doesn't put a limit on your sales. The last thing you want is to have your earnings capped.
If you anticipate heavy traffic, make sure you find something that offers lots of online storage space, inventory and bandwidth1. If you are just starting, see if the platform you're interested in offers upgrade for more storage down the line.
Cost
Regardless of whether your business is large or small, keep in mind that eCommerce platforms are available in many different price ranges. There are free platforms like Amazon's Elastic Compute Cloud (EC2) and extremely expensive ones like Hybris3. It all depends on what you're looking for.
Obviously more expensive platforms will come with some stronger features, but it is something to consider. Finding a happy medium is a good suggestion for beginners, since free platforms often don't include many things you'll need to pay for down the line (hosting, transaction fees, etc.).
Control vs. Convenience
The level of control you want to have over your eCommerce software is one of the most important factors to consider. It is often a trade-off between control and convenience. When there are fewer options with a software, it is much more convenient to navigate, manage and maintain4. The more details that go into it, the harder it becomes.
For example, some eCommerce platforms come with templates while others come in raw HTML and allow you to work with a seasoned web designer to bring your vision to life. Chances are it will be more expensive to do the latter, but if it's something you are adamant about it will be worth the investment.
The ability for the platform to provide customization of shopper options is another aspect of control to research. Does their software support loyalty programs? Can they help generate discounts? Some companies charge extra, some include it in the price. It all depends on what you're looking for in your online store. The best eCommerce platforms make it easy to keep your customers happy1.
Flexibility
Are you going to be selling one item or an array of different items?
Surprisingly, this matters! You'll want to make sure that your product catalog has the agility to reflect the type of inventory you put on your digital shelves. Find an eCommerce platform that can manage your products well.
Conclusion
The first step toward choosing your eCommerce platform is checking out your options. Do some research, make sure that whichever platform you look into has exactly what you need and choose one of the more well known options available. They are ranked highly for a reason and will be your best bet after all is said-and-done. Some of the most popular platforms out there today are Shopify, WooCommerce, Big Commerce, Volusion and Weebly.