11 Key Benefits of a Krayin CRM for Your Business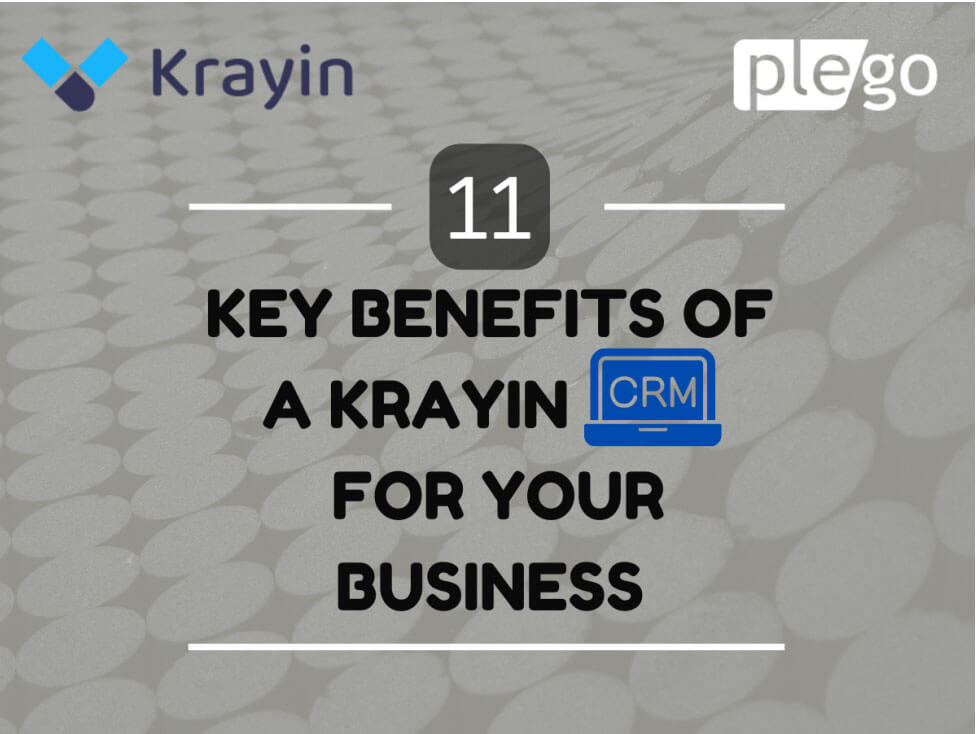 Businesses always look for loyal customers, but how much do you know about their needs and satisfaction? That is where a CRM can help. And when it comes to Krayin CRM, that does not simply manage your customers and prospects but also helps you prepare for their needs and preferences through our methodical analysis of customer behaviours. This will enable you to anticipate changes in your market and react accordingly!
Let us introduce you to the Krayin CRM for your business, an open source Laravel CRM (customer relationship management) solution that benefits businesses of all sizes. From leads to deals, now managing the data of your customer interactions is within reach. Track opportunities, leads, contracts, proposals, and other company-related information to ensure that everything is going as planned and you get maximum value from all those interactions!
What is a Krayin CRM? A Krayin CRM helps you automate your marketing processes to promote your products and services to the desired audience. If you choose not to utilize any of the given benefits of CRM while your competitors do, they will win in the end.
This post will highlight 11 essential benefits that a Krayin CRM system can offer your business. So, whether you're currently using a system or considering a switch, the Laravel CRM from Krayin is worth a look.
CRM applications are expected to reach more than $81.9 billion in revenues by 2025 as reported by PR Newswire. That is where a Krayin CRM can help.
It can also help you keep track of important customer data in one centralized location. It can make it more accessible for you to respond to customer inquiries and manage relationships with them effectively. A CRM system can also help you monitor sales and performance metrics, giving valuable insights into your business's performance. Finally, using the Krayin CRM platform may also improve communication between your company and departments. The Krayin CRM for business offers the following benefits and we'll share the ways in which you can take full advantage of them.
1. Automate Your Workflows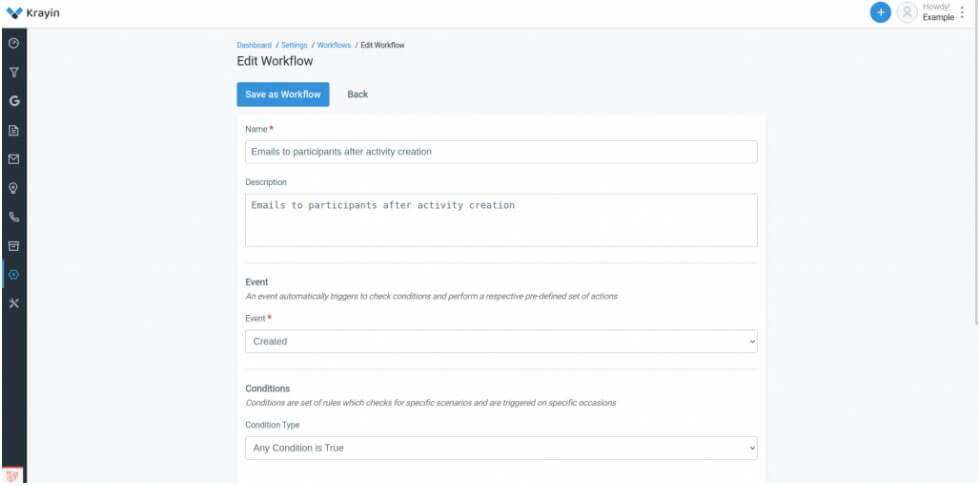 Krayin CRM enables workflow automation by providing a framework for creating, managing, and executing workflows. Businesses can use workflows to coordinate activities between divisions or departments within an organization, automate customer engagement processes, or manage product release schedules. CRM enables you to create and manage workflows in a centralized location, making coordination and execution of business processes much more effortless.
2. Keep an Eye on Key Customer Data
Krayin CRM can help you keep track of critical customer data. This data can include contact information, account histories, product preferences, and more. Keeping this kind of data organized and accessible, you can respond to customer inquiries faster and better understand their needs.
3. Generate Customer Insights
Use analytics to analyze customer data in real-time with Krayin CRM.
This information can help you determine which products or services are most popular with your customers and which areas of your business need improvement. Using this information wisely can further customize your offerings and improve overall customer satisfaction rates! It can help you track customer behavior and trends.
4. Scale Your Sales Processes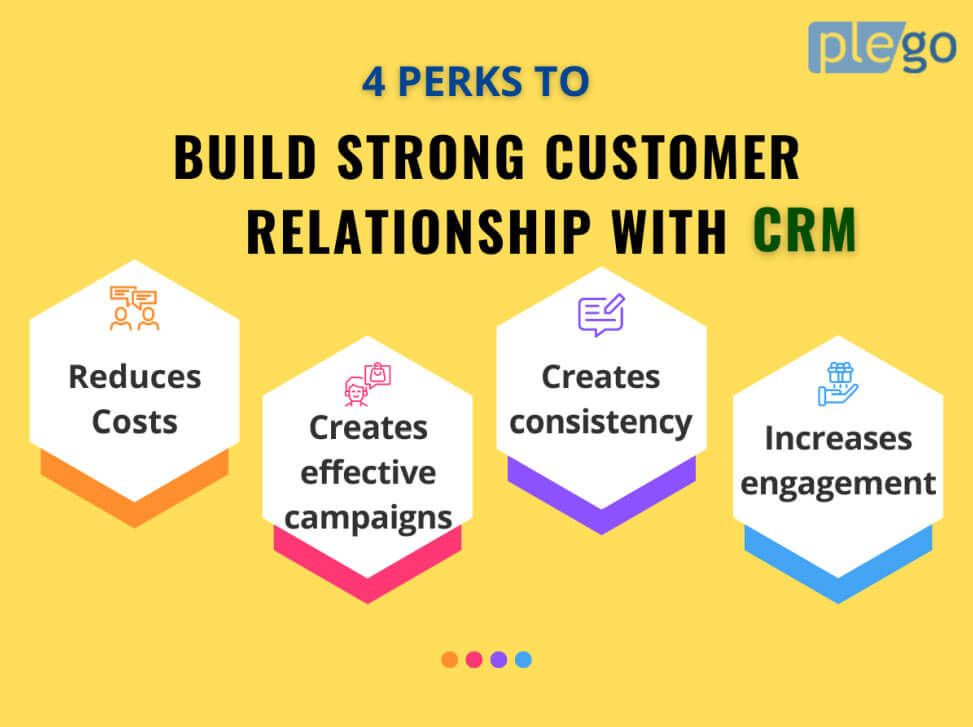 If you want to speed up your sales processes, then using a Krayin CRM system is one of the quickest and most efficient ways. Having all your customer data in one place lets you quickly find which prospects are interested in your offer. Track how well each lead has progressed through the sales process and determine whether you should convert any sales leads into customers immediately.
5. Manage and Control your leads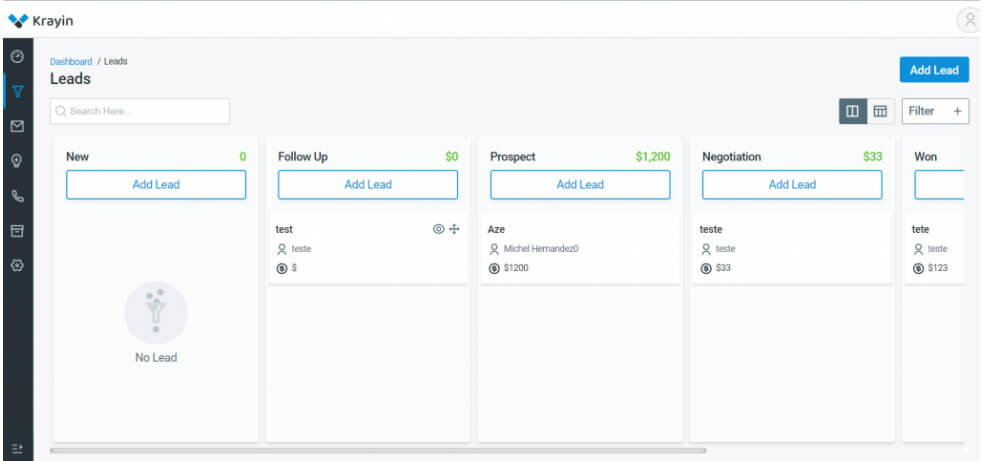 Krayin CRM includes one of the essential tools for managing leads throughout their life cycle: lead management. This includes gathering information about them, nurturing and converting them into customers, administering loyalty programs, and more. Integrating with marketing automation and other sales tools allows you to manage all customer interactions in one place and substantially increase your lead conversion rates!
With lead management, you get:
Lead Generation
Tracking of Leads
Distribution of Leads
Lead Qualification
Nurturing of Leads
6. Observe Your Sales Pipeline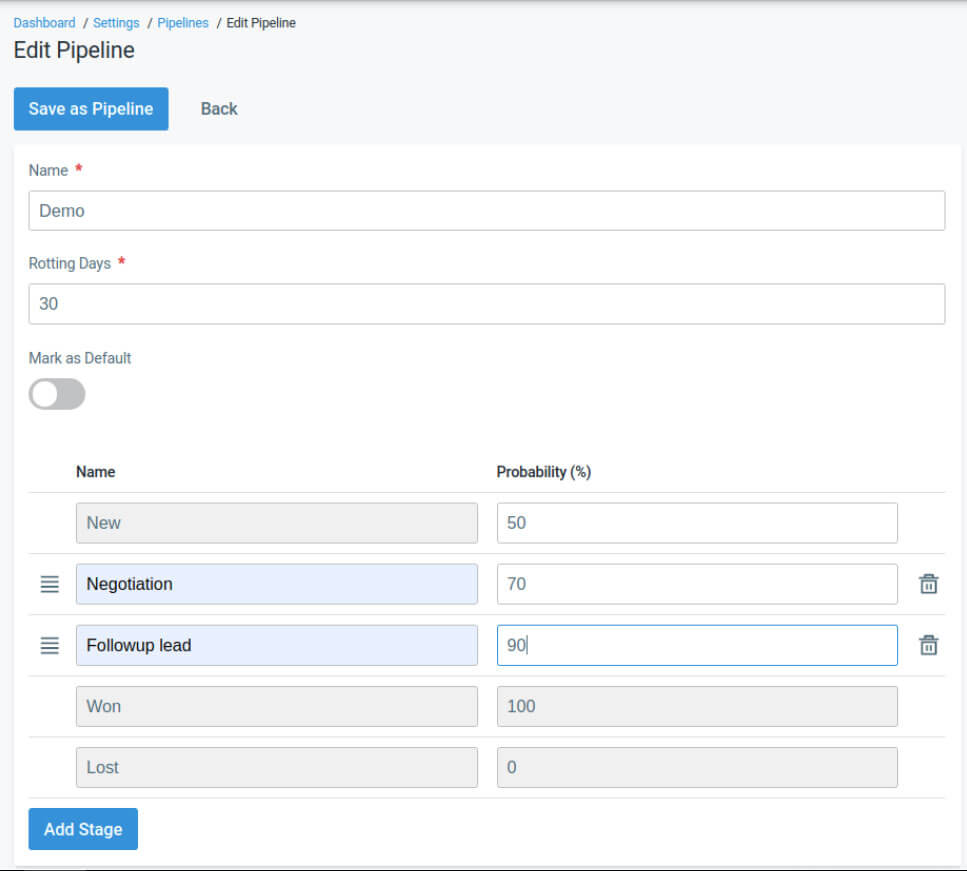 Sales pipeline visualization is a process of analyzing the progress of the sale and forecasting future sales generated by current customers. It helps you track your opportunities, set goals, allocate resources, and improve customer relationships. With a CRM system, you can easily see who is talking to whom, what products are being discussed, and where there might be any impediments in the sales process.
7. Organize Your Customers Through Contact Management
CRM systems help track customers' contact information, including their emails and phone numbers. It can help you better understand your customer's needs and interests and increase the chances of converting them into regular customers. You can also create customer lists, track customers' visits to your website, and contact them automatically based on their preferences.
8. Stay on Top of Your Tasks with Krayin Calendar.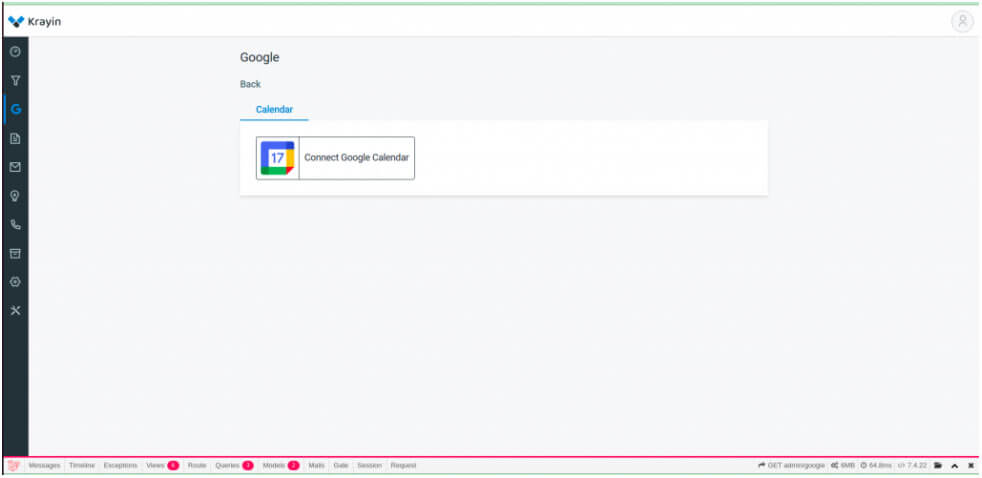 One of Krayin's best features is that Google Calendar can be synchronized with your CRM to improve your performance. In this open source Laravel CRM, you can use the calendar view to see a list of upcoming events in your account and changes to your account or products. Whether you edit, postpone, or delete tasks on Google Calendar, the list of tasks in Krayin CRM is updated automatically. It can help you keep track of important deadlines and ensure that you are always aware of potential disruptions in your sales pipeline.
9. Get Centralized Access to Activities via Graphs and Charts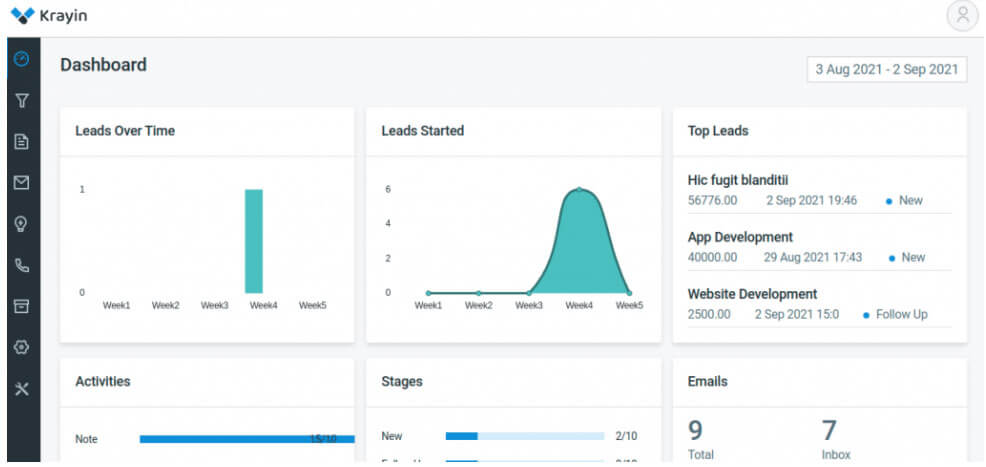 With the CRM dashboard, you can consolidate all your customer activity data in one place to quickly see trends, patterns, and insights. You'll also be able to access the data more easily when you need it – such as when you're creating proposals or tracking lead numbers. You can customize charts to show the data that matters most to you and create dashboards for individual products or departments.
10. Manage Events and Set Important Reminders with Activity Management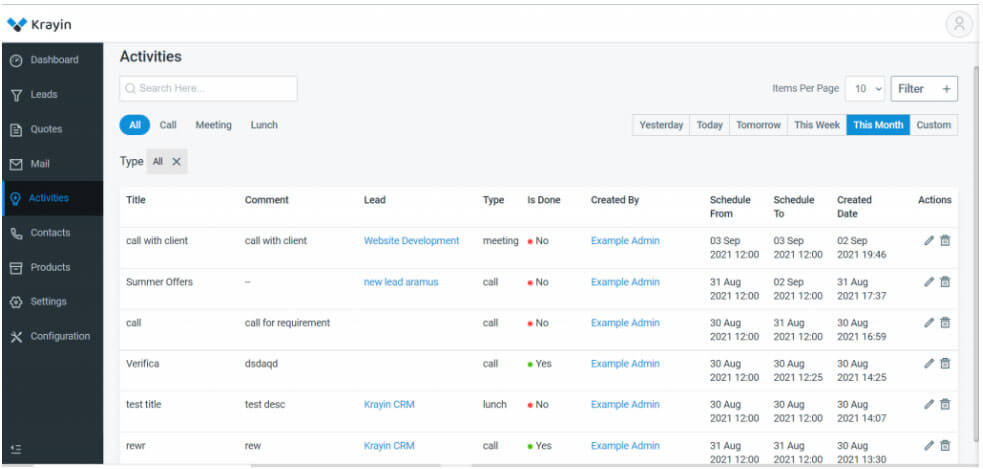 The activity management module of the Krayin CRM allows you to manage events by assigning them to users, queues, or calendars. This way, you can ensure that all the tasks related to an event are completed promptly. You can also set reminders for events to ensure that everyone is kept on track. Finally, you can export event data to Excel or PDF to monitor all of your essential tasks in one place.
11. Create a Successful Marketing Plan with Email Integration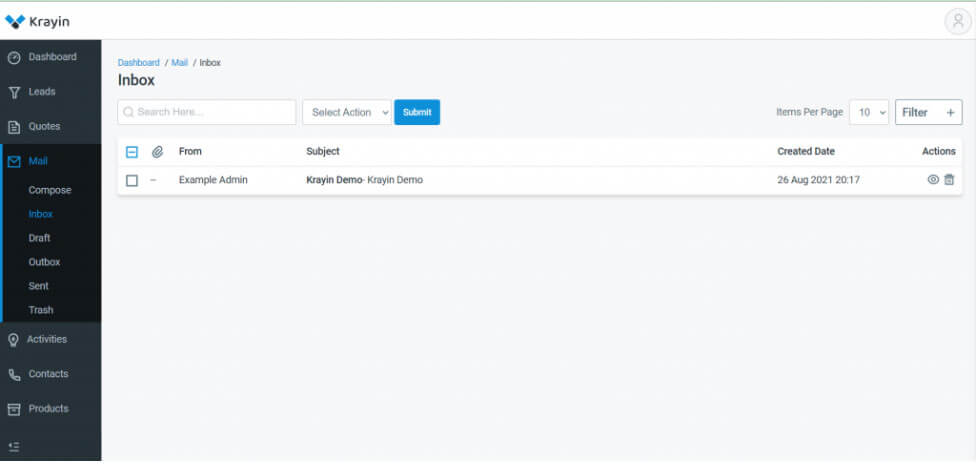 Email can be a great way to communicate with your customers and business partners. You can use email marketing to keep your customers updated about new products or services, to thank them for their patronage, or even offer sales coupons or other discounts. By integrating email into your Krayin CRM system, you'll have an easy way to track customer interactions and build a strong relationship with them.
Conclusion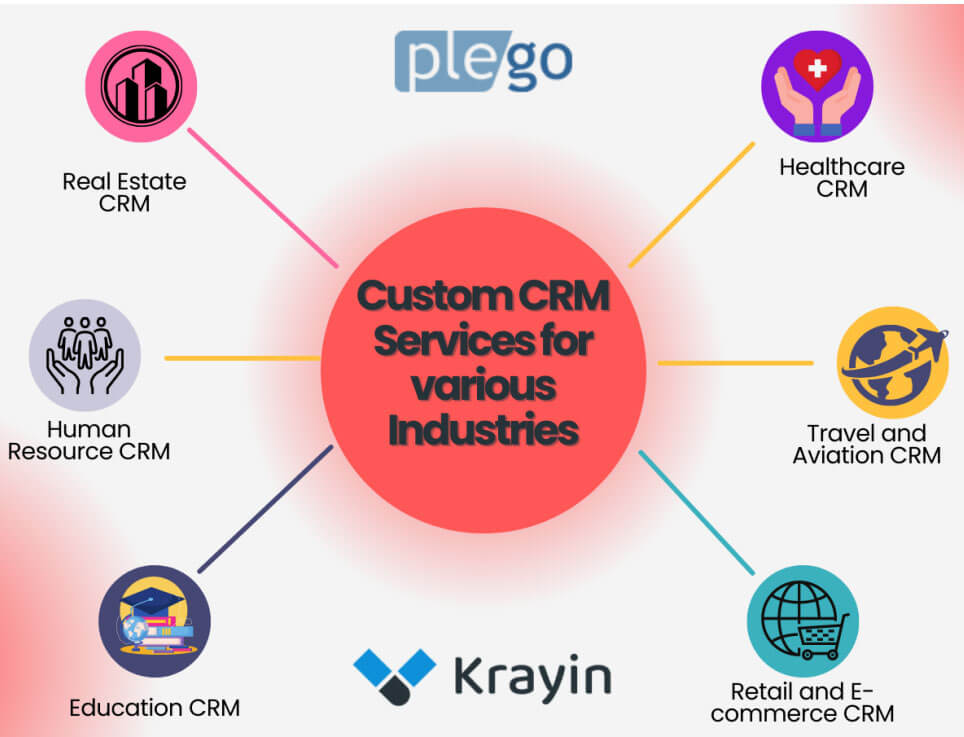 It is no secret that managing customer data comes with plenty of benefits.
Entrepreneurs need to keep an eye on their customer base and ensure they are happy and satisfied.
According to Nucleus Research, Implementing CRM software can Increase your sales by 26.4% and we can help you achieve that milestone with a simple yet powerful Krayin CRM solution that keeps track of your customers' valuable data in real-time.
What does it take to manage a thriving customer base? The answer lies in managing the data correctly.
While there are many available CRM platforms, the Krayin CRM offers several benefits that make it an excellent choice. So get started with Krayin CRM today!
Boost Conversions with Plego
Are you looking to increase your conversions by 300% or more and improve brand loyalty? We offer custom CRM solutions that can help you achieve these goals.
Contact us and drive better results with a 360-degree view of your business using the Krayin Laravel CRM.