Magento Community Vs Enterprise Edition: Which One is Right for You?
If you run an e-Commerce store, choosing your platform is one of the most important things in setting yourself up for success. With the number of different options available today, this is not easy feat. It's often confusing and filled with stress. What if you pick the wrong one? How can you tell which one is right for you? As most e-Commerce website owners understand, Magento is one of the best platforms on the market. While that narrows it down for you, there are still subcategories within the platform—specifically, the Community Edition and the Enterprise Edition.
Magento is a great platform to use for your e-Commerce store, but how do you pick which edition of Magento to use? In this article, we'll explore the similarities and differences between Magento Community Edition and Magento Enterprise Edition and help you find which one is right for your online store.
What is Magento Community Edition?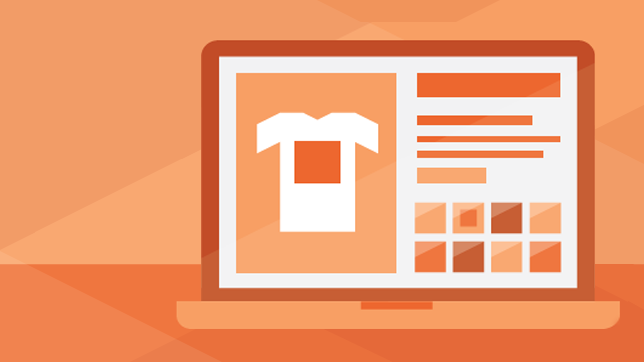 When you arrive to Magento's home page, you're given the option to tour the Community Edition. This edition is popular because it is an open-source platform that's 100% free to use. Both businesses and amateur sellers alike can use it. If you wanted to open an online store fast, with little to no investment, Magento Community is likely what you'd choose. It's a great way to experiment with e-Commerce and learn about building a site along the way. Magento Community is easy to modify and if you need extended functionality, you can use Magento extension marketplace. All you need to do to start using Magento Community is download it and open it, simple as that.
What is Magento Enterprise Edition?
In addition to a free option, Magento offers an Enterprise Edition. This is considered the premium version of Magento development and thus, costs money to use. It's primarily for businesses that need more than what Magento Community has to offer and for those people who are well versed in web development. Unlike Magento Community, Magento Enterprise has a full service support team that can be reached at any time by phone or email. Included in the price is also exclusive features and regular security updates. The scalability on Magento Enterprise is good for medium to big businesses that expect fast growth and a high volume of customers. You need to purchase a license to start using Magento Enterprise, but once you do it's yours to launch.
Basic Similarities Between Magento Community and Enterprise
Before talking about all of the differences between the two, it's important to understand the similarities. While there aren't many, they are both open-source platforms. This means that third-party developers or modifiers can change the source code to reflect their needs. They're also both considered part of the larger Magento ecosystem, so they can both use the Magento extensions and other apps if they need to boost functionality in certain areas.
Both Magento Community and Enterprise can be used and integrated with multiple different databases.
Aside from these things, Magento Community and Magento Enterprise are vastly different.
Differences Between Magento Community and Enterprise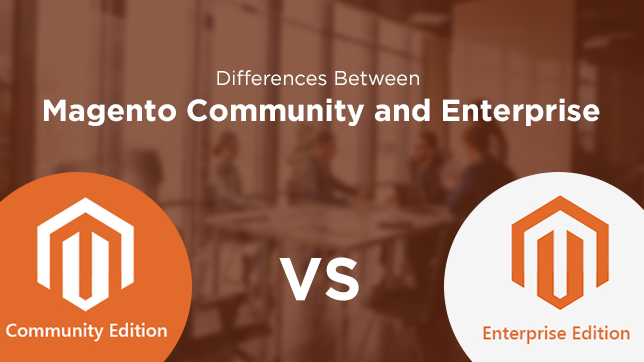 What sets the two platforms apart is usually reason enough to choose one over the other. Finding one that's right for you will depend on your business' goals and needs. Here are the major differences between Magento Community and Enterprise.
Functionality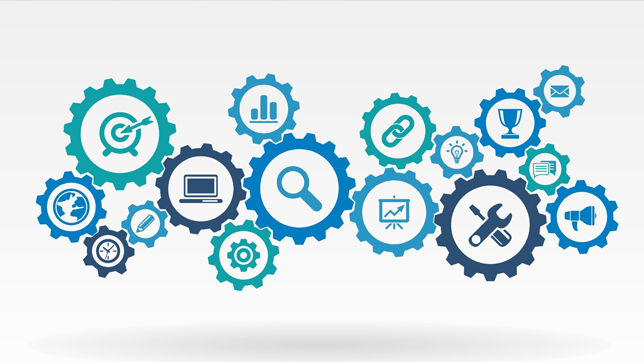 Like we mentioned, both editions are part of the Magento ecosystem, giving them the same underlying core functionality. However, Magento Enterprise comes equipped with more advanced features, which translates to better overall functionality. There are options to run software that assists with shopper behavior, targeted offerings, and even return authorization. It includes a CMS+ feature, full page caching, and automated email marketing reminders. The CMS+ allows you to include content hierarchy, banners, vision control, and publication restrictions—all of which are unavailable in Magento Community. While you can download a few plug-ins on Magento Community, you won't be able to achieve the top-of-the-line functionality that Magento Enterprise boasts.
Cost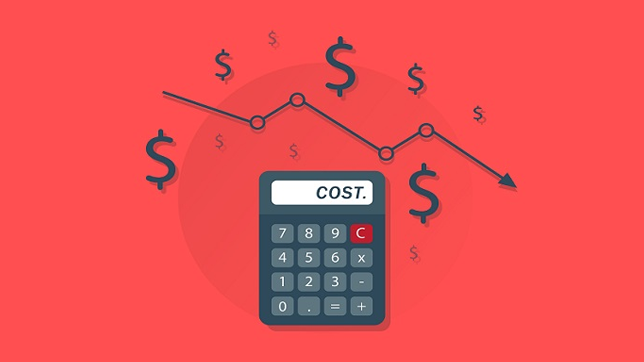 Arguably the largest difference between the two is cost. Magento Community is 100% free to use, for as long as you need. Magento Enterprise costs about $15,550/year. It's a pretty substantial difference in investment costs, but the price reflects functionality. If you need more of the added features of Magento Enterprise, the investment is well worth it in the long run.
Security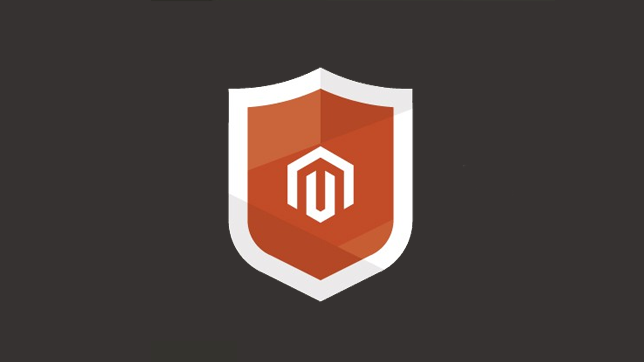 With security breaches causing scares across Internet users, having a secure e-Commerce site is important. Magento Community does not have any extensive security measures in place for payment bridges and lacks credit card tokenization. This means that Magento Community isn't considered PCI compliant and you might run into problems with credit card processing. If you take the time to fill out your PCI paperwork, implement PCI policies, document any PCI technical policies, and use a payment gateway that redirects shoppers to a secure site, you won't have any problems with Magento Community. This does create extra steps for shoppers though, which might lead to increased abandoned carts.
Magento Enterprise comes equipped with PA-DSS, an extremely powerful security feature. This eliminates the need for extra work and makes sure that your customer's information is protected when entered directly on your site.
Scalability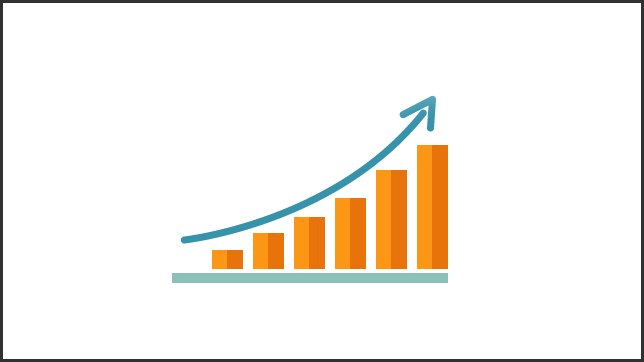 As we mentioned above, Magento Enterprise is extremely scalable and will change depending on your e-Commerce site's traffic. It allows you to grow your business with ease and is equipped with faster scaling features than Magento Community. If you are just starting out and don't see exponential growth in your near future, you can always start with Magento Community and upgrade to Enterprise as your business flourishes.
Performance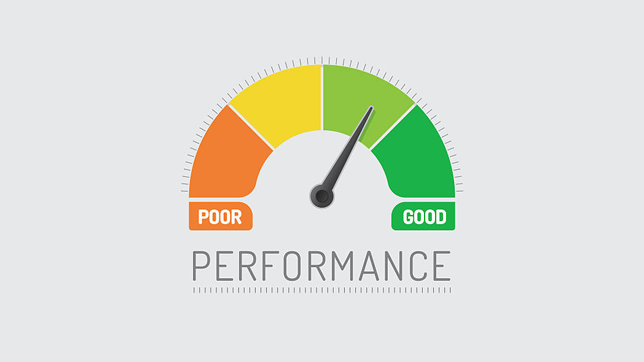 Interestingly enough, Magento Community is actually faster than Magento Enterprise. This doesn't necessarily equate to a better site, however. It's usually only because on the Magento Enterprise edition there are more modules, features, and complexities in the e-Commerce store. Speed also doesn't necessarily equate to high performance. Magento Enterprise has been rated much better in performance across users of both platforms.
Marketing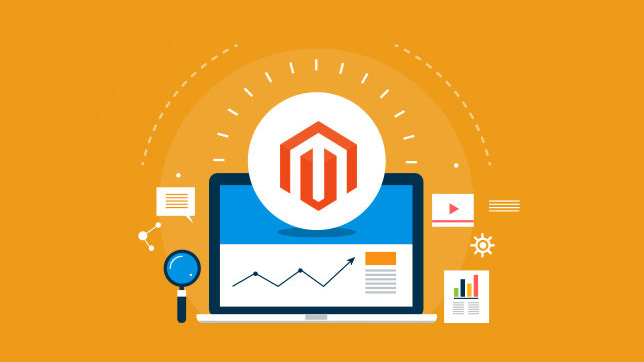 In Magento Enterprise, you will receive high quality product marketing. You can opt for content staging and create targeted content with customer segmentation without the need of added plug-ins. Included in Magento Enterprise are also abandoned cart reminder emails, which are a huge way to increase your customer base over time.
Magento Community does not include the above, but it does include some great SEO boosting features and will automatically create custom, high ranking meta tags and URLs for you to use.
Support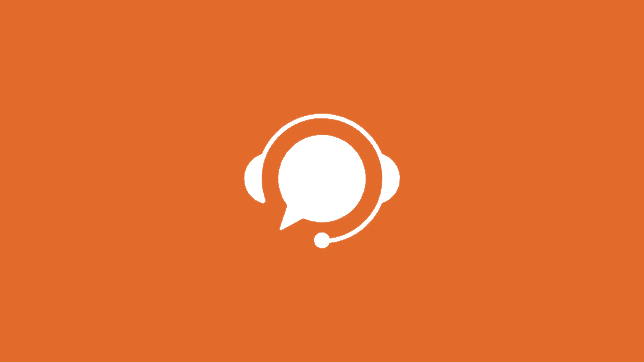 Finally, Magento Community does not come equipped with any Magento support. If you have a problem, you will need to head to forums and do the research to fix it yourself. With Magento Enterprise, you have access to 24/7 technical support run by a team of Magento experts. You also receive an account manager who can help you with creating your site and upgrading it with security features and recommended functionality details.
Which One is Right for You?
While it may seem that Magento Enterprise is far superior to Magento Community, you have to look at your business' needs and goals. Magento Enterprise is extremely expensive, especially for start-ups or small businesses. This makes Magento Community the most practical choice, especially if you don't think you'll need all of the additional features. Remember, you can always upgrade to Magento Enterprise as your business starts to grow, but a near $16,000 investment in operating costs isn't ideal when you're just starting out. On the other hand, if you are a business with a solid plan to create a booming e-Commerce store that will need to utilize all of the functions included in Magento Enterprise, then the investment is worth it. Starting out with added functionality and support would give you what you need to grow your business, find investors, and build a loyal customer base. The addition of an internal marketing team is also an extremely beneficial function and will help you better analyze your features and their usage to get the best results. If you plan on creating 6-figure revenue or above, Magento Enterprise is the obvious choice.
If you aren't sure what your profits will be, start out with Magento Community. It's a great stepping-stone and will still give you everything you need to run a successful e-Commerce store. Since you can download and add Magento extensions, you should be able to configure Magento Community well enough to get you started on the right foot.
At the end of the day, the choice is up to you. Each e-Commerce platform has it's own benefits and Magento Community vs. Edition is no different. If you need help with anything web-related throughout the process of setting up your e-Commerce store, don't hesitate to reach out to the professionals at Plego Technologies today.