Magento Vs. BigCommerce
The rise of the Internet has changed the way that we live our lives. From instantly accessible information to shopping from the comfort of your home, everything is digitalized. In fact, most people prefer to shop online. It's easier, takes less time, you can read reviews from other users as well as see different clothes like they'd look on a person rather than a hanger. Things can be purchased in one-click and shipped directly to your door. What a beautiful world we live in. However, there are numerous different types of e-commerce platforms available and each one has a different user interface.
If you're unfamiliar with the word e-commerce here is a quick breakdown. E-commerce is essentially online shopping, however there are a few different types.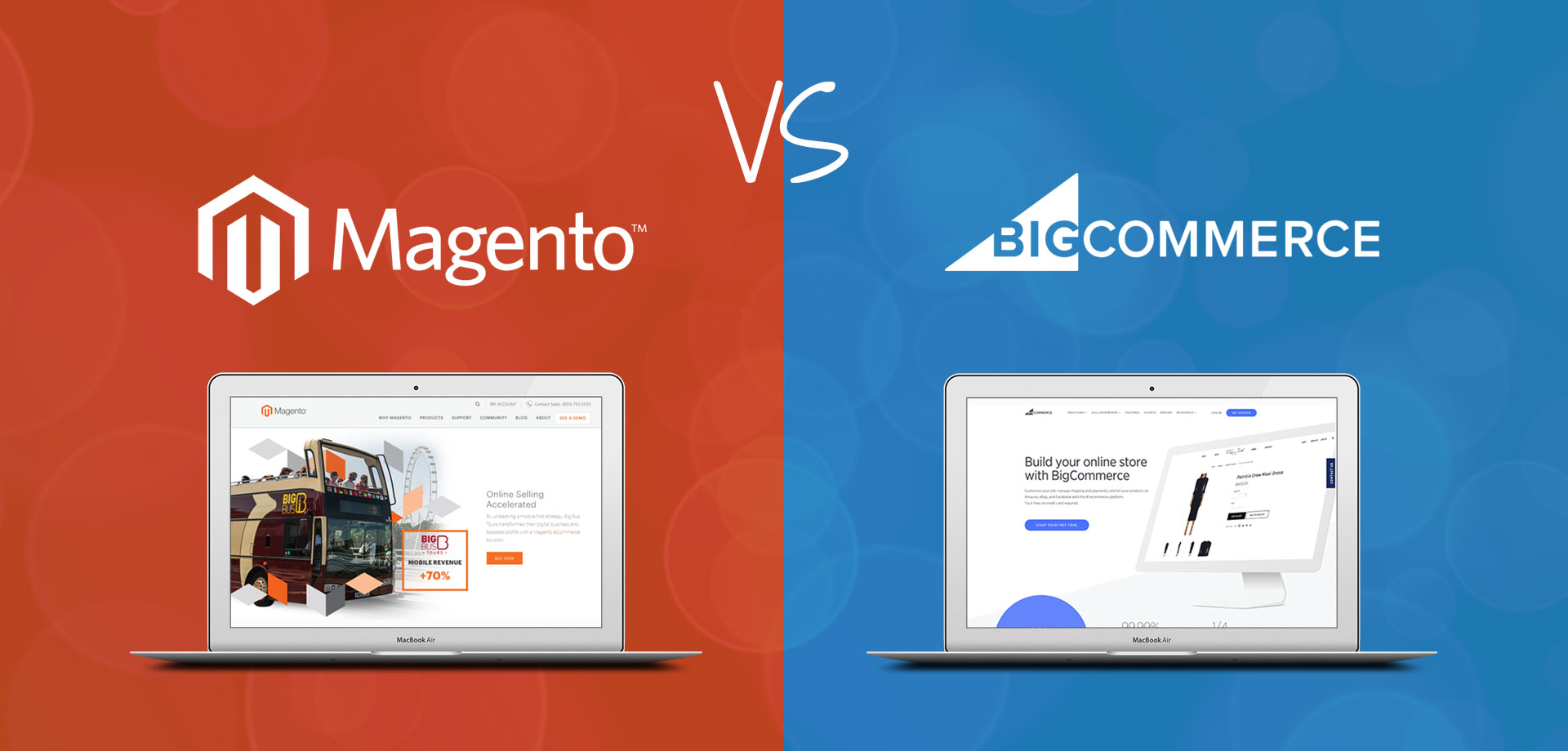 Business-to-Business (B2B): this is when two or more businesses conduct transactions over the Internet. They can include negotiations, commercial transactions, wholesale trade and more.
Business-to-Consumer (B2C): this is the model that most of us interact with. It's when a business sells something to a consumer. Whenever you order from big companies or your favorite website, you are participating in B2C e-commerce.
Consumer-to-Consumer (C2C): a lot of us participate in this through Amazon or eBay. This type of e-commerce involves one individual selling to another over the Internet when all payments are made online.
With these different types of e-commerce explained, it's now important to understand the difference between the available platforms on the market. Once you understand the differences, it's easier to decide which platform is right for your business. Since it is the foundation of your online business, it's an important thing to think about. Luckily, we're here to help you make an educated decision. In this article, we're going to focus on two leading, well-known platforms and the differences between them: Magento and BigCommerce
Magento

Open Source Platform
Magento is a self-hosted open source platform. This means that it is hosted on specific software that needs to be purchased and physically installed into the server and computers. If you are the merchant, you can only access it via licensed software on the computers and servers where it is installed. Once licensed, it is open for consumer access. Afterwards, the access to modify coding is open and you'll need to hire specialists in order to develop, enhance and install plug-ins. It is nice for developers because they will have absolute freedom with creativity and design. This is a great option for companies who currently have developers employed. Since you already have a team in-house, it is easier to design and customize the site to your companies specific branding and voice.
For companies that don't have a developer or design team, it can get a bit more expensive. You'll need to hire an outside agency to create your site and, depending on your wants and needs, this can add up quickly.
Design
With the Community Edition of Magento, there are tons of pre-created themes and designs that you can choose from. There are free options as well as paid options so that you can find something that fits your needs. Since this is an open source platform, there are hundreds of themes to choose from. If you want a specific layout that is customized to your store, you'll need to either hire a designer or use an in-house one, as the themes can be difficult to manipulate for beginners. Factor in quality when you are looking for pre-designed themes since some of them aren't the best.
Features
Magento comes with some good front-end features such as responsive design, product browsing, individualized customer accounts, product reviews and order status options. You can opt to show additional related products, coupons and customer polls. There are a robust amount of features that you can choose from and integrate into your store.
In the back-end there are also some great features, but again, you'll need to have development experience. There are customer service aspects, self-generated reports and integrated payment options. There are a ton of product attributes and other options that you can manipulate or hire someone to do it for you.
Magento also includes specific services for marketing and is very SEO friendly. The downfall is that it does not have many options built-in for social media integration. You can download and install extra plug-ins, but they are not included from the start. There are options to create newsletters and subscription management along with built-in promotions. You can also send out options for free shipping, promo prices and more.
Cost
Magento has a few options, one of which is actually free. The community edition of Magento is the free option where all you need to do is pay for hosting. Hosting can run anywhere from $4-100/month depending on which company you go with. If you have an in-house design and marketing team, this is a great option as you're already paying your developer a salary. However, if you don't have an in-house developer, you'll want to factor in the costs of hiring a third-party team to set up your store as well as manage it.
You can also opt for the Enterprise Edition for added features and functionality. You'll need to contact Magento in order to get a quote for your specific store.
BigCommerce

SaaS Platform
Software as a service (SaaS) is a specific type of e-commerce platform where a third-party hosts different aspects of your online platforms. They are the ones who take things into their own hands in order to make specific applications available to your customers, so it's almost like an outside employee helping you run your e-commerce business. It is cloud-based and thus, easily accessible from any web browser across the Internet.
The nice thing about this type of platform is that it is already maintained by an outside source. The third-party who runs the SaaS platform will set up, host and provide designs for your site. There are a ton of themes readily available to choose from that can be easily customized by non-IT specialists. Since it is hosted externally, it also comes with different extensions such as customer and product reviews, marketing benefits and recommendations. It also includes quite a few plug-ins so that you don't need to purchase extra extensions.
Design
There aren't as many options for available themes with BigCommerce, however the ones available are extremely good quality. They are also great because you can use them regardless of if you're just starting out or are advanced in technology. Overall, the themes in BigCommerce are much easier to work with and customize. They are considered "beginner-friendly" whereas Magento is better for well-versed developers.
Features
The amount of front-end options for BigCommerce runs pretty closely to Magento, with the ease of functionality. There are built-in features that you can choose from such as wish lists, product searches, payment processing and live chats. It is easy to include coupon codes and integrate your social media platforms for higher visibility. Again, one of the best attributes is that it is much more user-friendly for beginners.
On the back-end you are welcomed with step-by-step instructions for specific tasks in order to create and launch your store. It is very similar to WordPress, making it easy to change settings for things like pricing, inventory, videos and content.
BigCommerce has similarly strong SEO attributes to Magento with quite a few additional options such as sitemaps and product specific tags. You have access to reviews and the ability to easily change titles and headers to compliment your SEO strategies. However, there is no built-in newsletter option so you would need to use an outside platform to create one. A unique thing about BigCommerce is that you can offer your customers gift-wrapping along with gift receipts for people doing holiday or special occasion shopping. There is a lot of functionality already included in BigCommerce platform, so the app store is not as big as Magento for plug-ins and extensions.
Cost
The final thing you'll want to take into account is the cost of your e-commerce platforms. BigCommerce has four different plans available to choose from: standard, plus, pro and enterprise. Each plan additionally has processing fees for credit cards, which go down as you gain volume in your business and increase the size of your plan.
Standard is the first option coming in at $29.95/month with a 2.9% + $0.30 processing fee. This is for your basic full-featured online stores with pretty limited features. Plus is $79.95/month with a 2.5% + $0.30 processing fee and begins to add lucrative marketing tools. Pro is currently priced at $249.95/month with a %2.2 + $0.30 processing fee. It includes a comprehensive set of features and is automatically chosen as the option for stores selling over $125,000/year. For information on Enterprise, you need to actually call BigCommerce and talk to a representative regarding customization for your business.
Conclusion
At the end of the day, each e-commerce platform has its pros and cons. This is why it's important to understand exactly what you need and what you want. If you have an in-house developer and design team, or if you're well versed in these yourself, you are going to save a lot of money with Magento. On the other hand, BigCommerce is easy to use and offers a ton of included features. You can always test each of them out (BigCommerce offers a free trial) and see which one works best for you.