The Golden Rules of UI/UX Design: Building an Experience No User Can Resist
Developing the perfect website is something that every company strives to do. The better your website is, the more likely you are to attract new customers and increase your profits. Building an experience that no user can resist is one of the biggest assets your company can have, which is why you need to focus on UI/UX design. In this article, we'll go over a few of the golden rules of UI/UX design that you need to implement if you want to enhance your development and drive user engagement.
What is User Interface (UI)?
First, you need to make sure that you fully understand both elements of UI/UX. The two are often confused, or used interchangeably, but they're inherently different. User interface (UI) is how your website looks as a whole. It focuses on developing the backend of things to make sure that
your website is appealing to your visitors and has strong aesthetic value
. UI is what links your visitors to your website and your website to your visitors. It's the connection between the two. Successful UI takes a lot of practice and requires developers with experience to bring a vision to life. It includes typography, placement, alignment, and how everything is tied together to elicit a certain connection with whoever is on your webpage.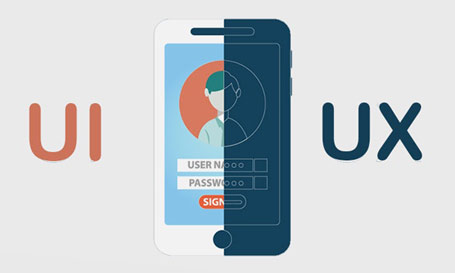 What is User Experience (UX)?
User Experience (UX) is more about how your site functions as a whole. You need to have certain UI parameters to achieve this functionality, but UX goes much deeper than that. It focuses on the physical interactions that your visitors will have with your website and how to encourage or motivate certain actions. UX relies on a knowing what a clearly defined target audience is going to want, how they think, and what will compel them to finally take action. While UI helps to bring your vision to life, UX needs to be researched and planned long before you start building your site. UX involves site navigation, calls-to-action, different interface elements, and overall operation. It makes sense then that UX focuses solely on the actual experience of your visitors, not just on what your visitors will see.
User Interface and User Experience work hand-in-hand to create a fully functioning website that helps to create an experience that visitors can't resist.
UI/UX Design Tips to Enhance Your Development and Drive Engagement
Creating beautiful UI/UX design is a dynamic process. As trends change, people's preferences start to change with them. Luckily, most UI/UX design is, at its core, stable and slow to transform into something completely new. To make sure you're getting the most out of your website it's important to enhance your development and drive engagement—start by incorporating these 12 UI/UX design tips.
1. Prioritize Aesthetics
How your website looks and feels is important to its success. Prioritize the aesthetics and invest in high-quality web development that looks and feels great. There are so many great businesses and brands out there that lose customers to lesser companies due to simple aesthetic design. Strive for attractive and elegant presentation and don't settle for something that's less than great.
2. Create a Brand
Your entire website should be designed according to your unique brand image. The more you use your brand; the more people will start to recognize it. When someone recognizes something; the more likely they are to feel like they can trust the company or business, which in turn leads to higher conversions and more profits. Use your brand colors, designs, logos, fonts, and even verbiage to strengthen this brand across your visitors.
3. Use Straightforward Navigation
Don't confuse your visitors with complicated navigation on your website. The easier and more straightforward it is to move throughout your website, the better the overall use experience is going to be.
Your site speed should also be optimized
so it works as fast as possible. Keep your navigation menu visible and easy to use for the best results.
4. Be Clear and Concise
Similarly, regardless of what you're putting on your website, you need to be clear and concise. This includes finding the information people are looking for, establishing calls-to-action, and avoiding any jargon that may cause visitors to get confused or frustrated in the process. The dialogue that's used should have a clear start, middle, and end. Don't make people think you have more to say and leave them hanging in the middle of a thought.
5. Avoid Distractions
This goes hand-in-hand with the above, but never fill your website with a bunch of irrelevant distractions. All this does is take away from your underlying goal and cause information overload to your visitors. The more often people get distracted by irrelevant content, the less likely you are to convert them.
6. Reduce Short-Term Memory Load
People have short attention spans, especially in today's information overload type of society. Don't over-do it. Stick to simple information that reduces the short-term memory load. To accomplish this, make sure that you follow easy aesthetic design and keep your overall user interface clean, simple, concise, and consistent. Try to stick to popular or trending design elements and styles that people are used to so they have an immediate sense of recognition and can focus more so on your content.
7. Maintain Consistency
The style of CTA buttons, fonts, and any other actionable items should be consistent across your site, so your users aren't confused. If one button is a big red circle and the other is a small green arrow, people might be hesitant to click on either or. Instead, make sure that your consistent across navigation, CTA buttons, and the overall style that you present. Keep appearances consistent in design, use terminology that doesn't change, and make sure that the functional parts of your site are similar in style.
8. Improve Intuitiveness and Hand Over Control
People like to feel like they're in control, even when they're on someone else's website. Improve the intuitiveness and reactivity of your user design so that it mirrors the idea of visitor control. To do this, simply implement
a system that creates a logical sequence
for people to interact with. You'll still get to the same results, but people will feel like they're in control. When they feel like they're in charge, you'll help improve conversion rates and secure more loyal customers.
9. Offer Informative Feedback
Feedback is an important part of the web browsing experience. Make sure that your visitors know exactly what's going on across your site at all times by offering informative feedback at reasonable points throughout the browsing or buying process. Don't make your visitors try to guess what's happening, as this will increase bounce rates and reduce user trust. If you are trying to get someone to click a button, give them a notice that their action was received and whatever is supposed to happen next is processing. These feedback mechanisms are small details, but they'll make a big difference.
10. Allow for Reversal of Actions
In conjunction with informative feedback, give your visitors the option to easily reverse their action. Give them a choice to press "undo" if they need it. If your visitors click something on accident and it changes your entire website to a point where it's difficult to return to the previous page, chances are they're just going to close your website and find one that's easier to navigate. When you allow for the reversal of actions, you'll reduce anxiety and improve the overall user experience.
11. Permit Simple Error Handling
Even if you permit action reversal, you should still design your website so that error handling is simple and straightforward. This is best achieved by either eliminating all circumstances that could easily lead to errors or by allowing your visitors to double check their actions and confirm them before submitting anything. One example of error handling that's easy to include is showing password requirements with little red x's and green checks next to them as they're fulfilled.
12. Create Quality Content
High-quality content greatly improves the overall UI/UX design of a website and will help you establish trust with your visitors. Make sure that you're continually developing, creating, and posting quality content to give your visitors confidence that your company is worth their business. Your content should encourage engagement and captivate your audience to help increase conversion rates and avoid high bounce rates.

If you're interested in improving your UI/UX design, but aren't quite sure where to start, give the professionals at Plego Technologies a call today. Our team of

web design experts

have years of experience and a comprehensive portfolio available for you to see. We're always committed to providing high-quality work at affordable pricing. Call us today at

630-541-7929

to learn more or to

schedule a consultation

.