SEO Solutions to Help Your Business Grow


Roofing Company
Roofing Company – SEO Services
Client Profile
Our Client is a locally-owned construction and roofing company serving the needs of homeowners. Their roofing contractors provide roof inspections and roof replacements, roof repairs, siding and gutters installation services, they remove the burden from their valued customers by managing the entire process
Client Industry
Roofing
Business Challenges
Our Client had minimal exposure in search engines for keywords relevant to their business including "shingle roofing contractor", "residential siding contractor", "Illinois roofers", "Illinois roofing company" and more. Lack of page 1-2 organic search rankings of competitive phrases lead to minimal users/sessions to the website originating from organic search.
This is in contrast to their current state of being a top ranker in the Chicago area. Due to high demand and growth, the client has also opened locations in Michigan, Wisconsin, Missouri and Kansas. Plego is conducting regional based SEO based on their ever expanding locations.
Solution
The application allowed for greater potential for reporting, advanced calculations, greater historical data, faster retrieval and search of data, controlled access and permissions, and accessibility anywhere in the world.
Offsite optimizations included acquiring backlinks to build up domain trust and link profile across the web. Backlinks included business directories, offsite blog articles referencing client site and optimizing profile listings including Google My Business account and social media accounts.
Our solution also included social media promotion to build brand and business services exposure to within Facebook's network of users. This also encompassed promoting new blog posts to garner additional backlinks which, in turn, assist with SEO efforts.
Metrics and Results
We utilized our SEO software to monitor keyword rankings and Google Analytics to monitor organic (from search engines such as Google) traffic comparing full year data for 2018 vs 2017 including sessions and users visits. User visits increased 53% and sessions increased 52%.
Organic page views increased 35% and unique pageviews increased 51% while time on site from organic increased 21%. In aggregate for keywords monitored, keyword rankings increased over 5,200 spots in Google (keywords only counted once they moved into the top 100 spots). Highly competitive terms such as "commercial gutter repair", "shingle roofing company", and "Illinois roofers" are now in the top 10 spots within Google.
This growth in online ranking led to the expansion of the company and increasing revenues year over year.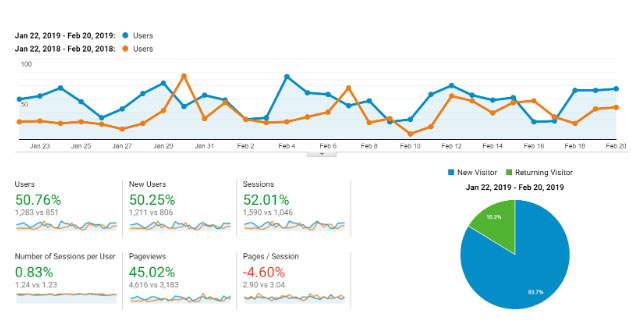 Services Provided
Search Engine Optimization (SEO), Social Media Campaign