Vucko Law
Vucko Law – Wix Website
www.vuckolaw.com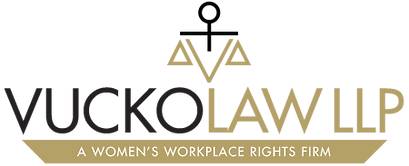 Client Profile
Stacey and Joey Vucko, having several years of Experience in the Law field, formed Vucko Law LLP together in 2019 to better service their customers' requirements as a limited liability partnership structure with unique complementary skill sets. They approach problem-solving with a creative mindset, mostly with the common objective of providing cost-effective, practical legal answers.
Client Industry
Legal / Law Firm
Business Challenges
Vucko Law had the following challenges with their online presence:
Greater Outreach

Vucko Law's main objective was to reach out to persons affected by employment-related disputes. They required a new site to convey that message.

Fresh and Promising Branding

Vucko Law needed a powerful presence over the internet to convey their message with a modern interface.

One-stop solution

Vucko Law desired to promote their skillset, expertise, and News related to their firm, current issues, and judgments.
Solution
Developing a New Website on Wix

The following are the main features of the site:

A sophisticated Logo to meet the requirements.
An ultimate resource of all the information user needs.
Aesthetically pleasing themes for the site based on the logo and brand identity.

Accessible Platform for clients

Plego made it possible for Vucko Law to provide free consultations through initial appointments.

User Friendly Website Design

Classic and creative Layouts
Justified text wrap besides images
Easy to use Navigation allows visitors a smooth transition from one page of information or activity, into another with little effort on their part.

Website Functionality

Site was built on a simple and user-friendly CMS with non-technical users in mind, ensuring that they can easily add content and manage their website without assistance from technical staff.

Image Optimization.

Plego employed clever compression techniques to reduce the image size without sacrificing quality, making web pages load faster.

UI/UX.

Plego designed an innovative, hassle-free, and intuitive user interface to enhance the user experience.
Home
Compelling and classical look of the Homepage provides a bold impression.
Position Fixed Sticky with contact details on each web page.
Image Slider

Slider with attractive images captivate the attention of clients.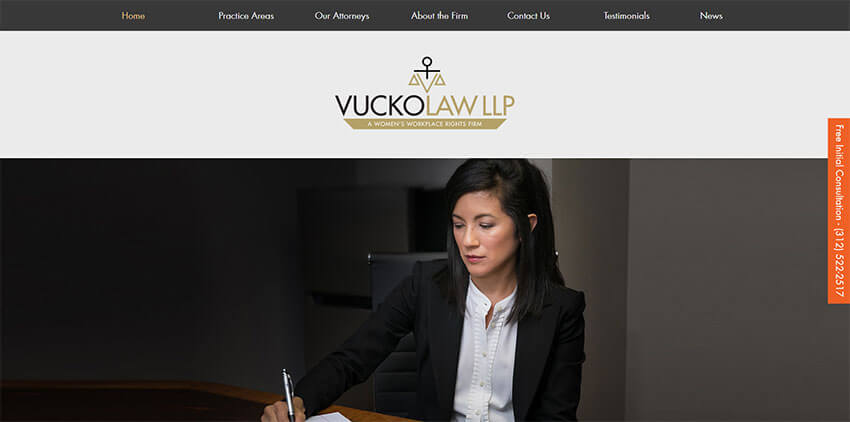 Practice Areas

This Section is enriched with information related to the practice areas and expertise of Vucko Law firm.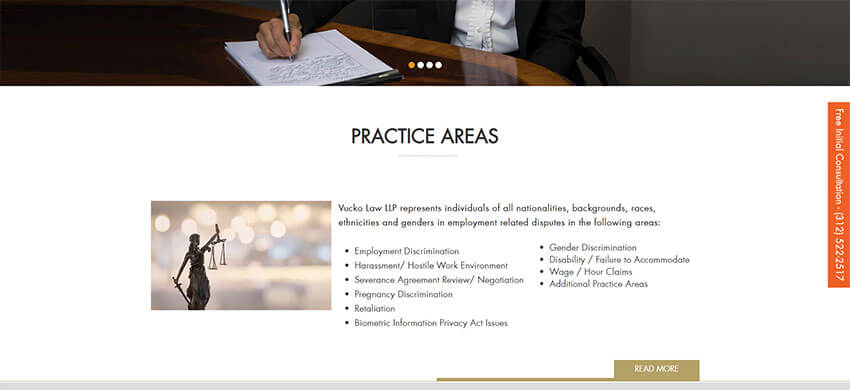 Attorneys

This interface offers information about attorneys including:

Profile Image(s).
Name and designation.
External social media links (Embedded).
Read more option – redirects to a page with detailed information regarding education and experience of Vucko Law's partners.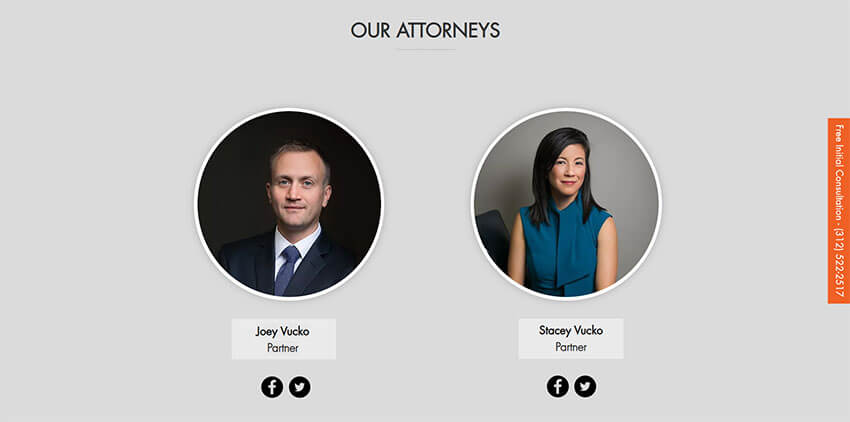 Recent News

This section is divided into subsections with the purpose of making it easier for user to find information and external links to news articles.
Read more option redirects users to see information in detail.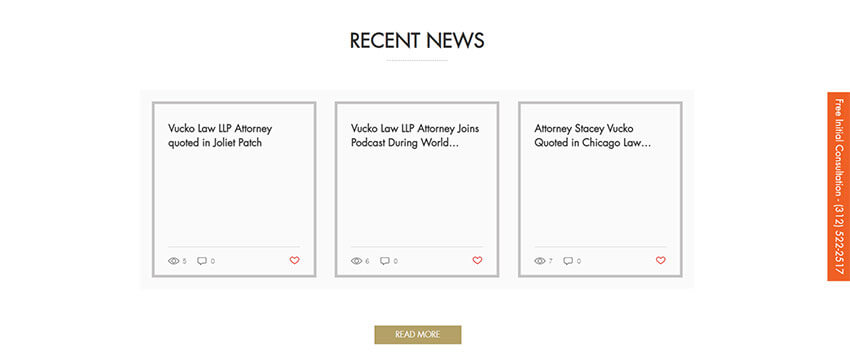 Contact Us

A section featuring a form, connecting users to lawyers.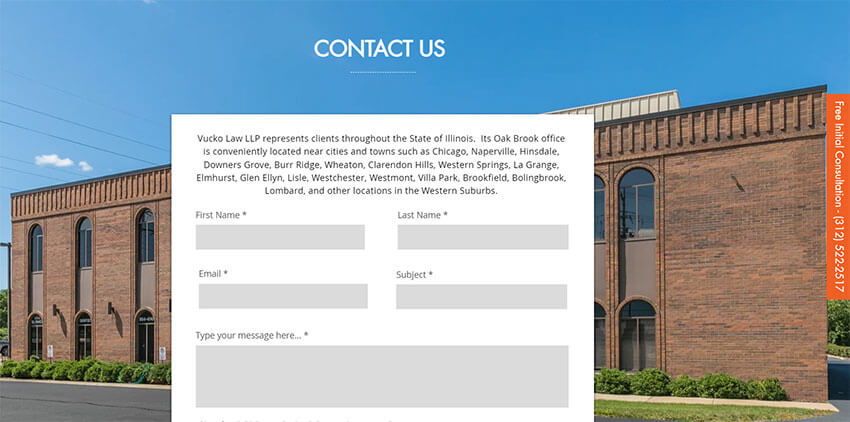 Practice Area
Web Page defines the Areas and Expertise of Attorneys in the field of Law.

Categories

Each Category is divided through images with internal links of web Pages Embedded.

Click on any image / area redirects to the internal web page with detailed information of problems and Solutions against them.
Sample of web page(s):

Disability / Failure to Accommodate.
Our Attorneys
Section Covers the detail about attorneys such as:

History of Firm.
Journey.

Information of Individual Partners in detail such as:

Brief History of how Vucko Law was founded.
Background of Attorneys with Academic Qualifications and Professional Expertise.
About the Firm
Section incorporates the detailed information regarding:

Firm's History
Attorney's vision, Leadership skills, and Career.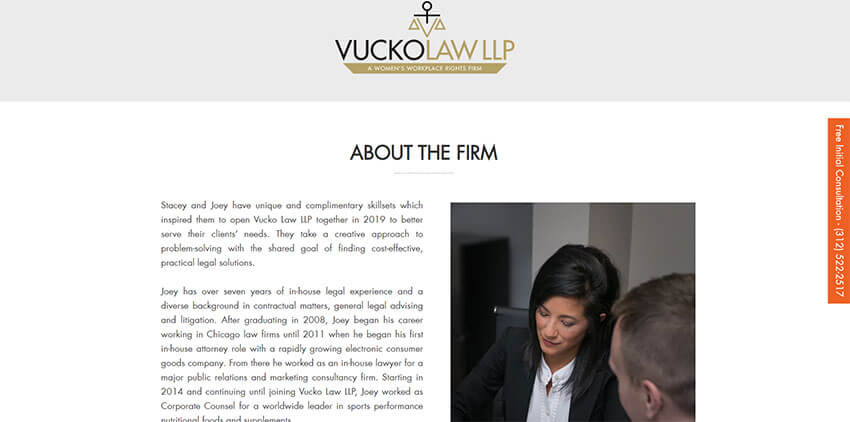 Experience

Cases won under the Leadership of the Attorneys and Firm are featured with details such as:

History of won cases (Before Vucko Law).

Detail of cases won (Under Vucko Law).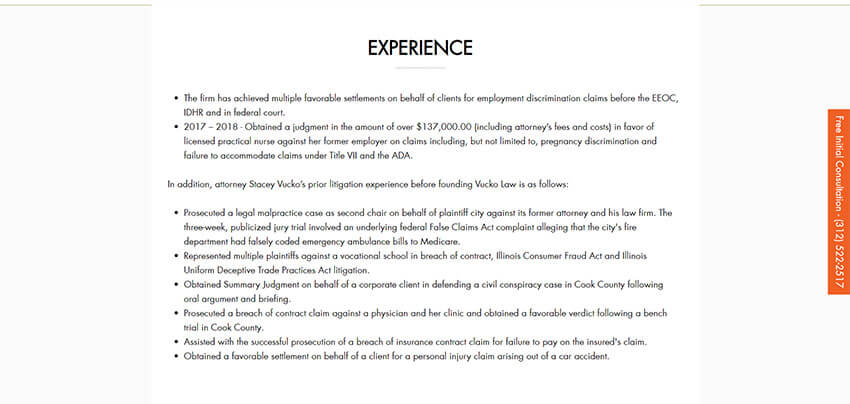 Testimonials
Section is dedicated for all the reviews received by the clients.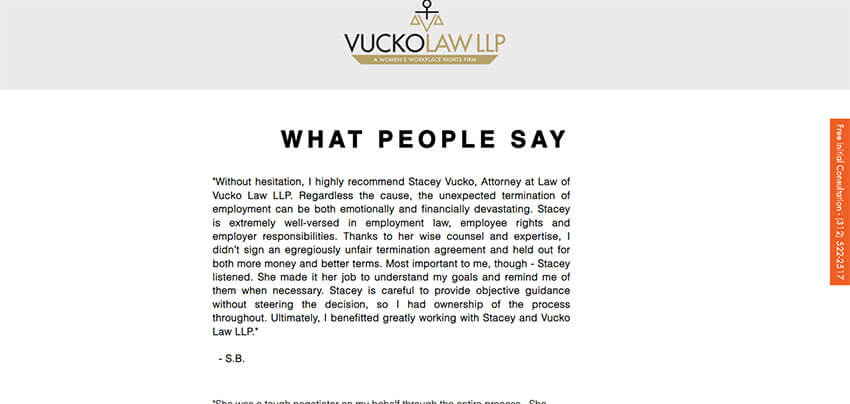 News
News related to judgements, Cases of Vucko Law, Podcasts of attorneys and other related stories are posted in this section.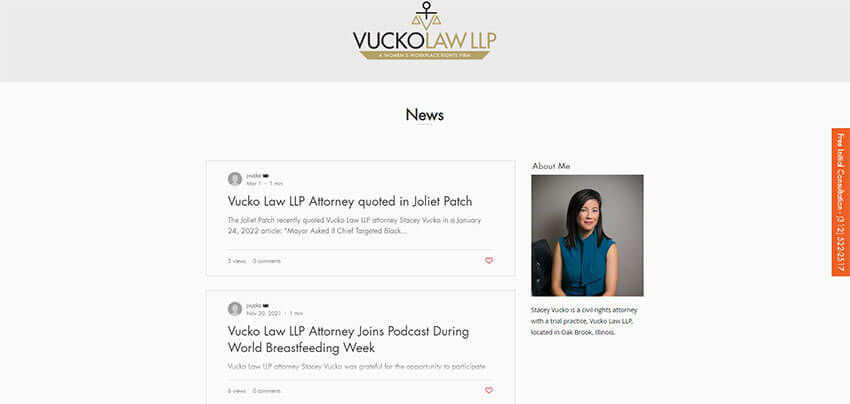 Each news item has an overview on its own page, while an option "click here" (with an external link embedded) redirects the user to a new page with more information about that specific news item.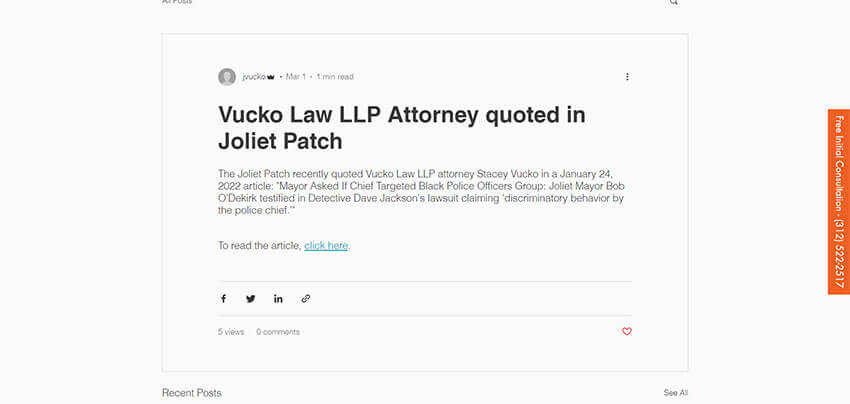 Contact Us
This Section Highlights:

Phone Details.
Complete Address.
Google Map (Embedded).

A simple form designed to build relationships and engage the users.
Fields designed for users to input:

First and Last Name.
Email Address.
Subject.
Message.
A "submit" button allows the user to send a request for an appointment and free initial consultation.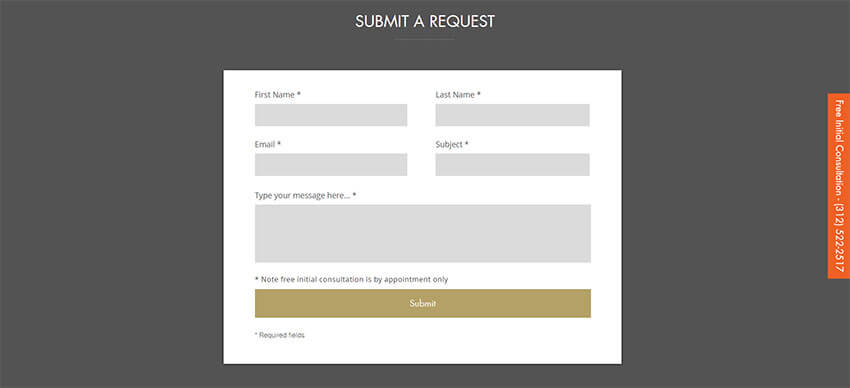 Technologies Used
Wix, JQuery, JavaScript.
Services Provided