Magic Chef
Magic Chef – Cloud Based Inventory and Sales Forecasting Web Application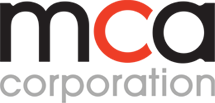 Client Profile
For more than 85 years, Magic Chef has been a household name that at-home chefs turn to for dependable, easy-to-use kitchen appliances. Today, Magic Chef continues that time-honored tradition, offering a versatile line of kitchen essentials to help busy consumers create magical moments and simplify their lives.
Client Industry
Home Appliances
Business Challenges
Magic Chef had multiple processes in place for their inventory and quote management activities. These activities consisted of managing multiple spreadsheets, going back and forth on email chains, and manually editing data within these spreadsheets based on analysis of past data.
While this process had become routine within the organization, it was time consuming and cumbersome.
For inventory management, the primary driver of this process was an Excel sheet. The data was manually retrieved from their back-end system, MAS (Sage ERP), and entered into an Excel Sheet. From this data, Magic Chef was able to calculate products projected and actual end quantities and months supplies based on warehouse data received. This was a manual process that took multiple resources, it was not efficient, had no error checking capabilities or much accountability.
This sheet was also used to forecast inventory. Magic Chef looked at the previous period's totals and forecasted for future periods. They adjusted the spreadsheet to adjust for sales growth to allow for a more accurate forecast. This process was also manual. Users had to analyze previous period's data without the assistance of any sophisticated algorithms or metrics, only what was available to them in Excel.
The following were the features requested by Magic Chef for their new web inventory management application:
Inventory Management Interface
Ability to obtain real time data from MAS
Ability to view data across multiple accounts and time periods
Forecasting capability
Customize Future Forecasting Growth
Search for and analyze previous period's demand
Search for and analyze previous period's supply levels
Custom analytics
Custom charts and graphs that portray past and future trends
Solution
Plego developed a cloud based web application that made the entire process more efficient. A Forecasting solution was also developed and integrated with their MAS ERP system. This solution allowed Magic Chef to integrate all their processes previously held within certain spreadsheets into a robust, efficient, dynamic and real-time web application.
The application allowed for greater potential for reporting, advanced calculations, greater historical data, faster retrieval and search of data, controlled access and permissions, and accessibility anywhere in the world.
This solution integrated workflows for the sales, logistics and sourcing teams. They are now all able to work together on one application and share data seamlessly. Automatic notifications and updates to relevant team members make the communication within teams much more efficient. The need for exchanging files or emails has been negated with this fully integrated management system in place.
The following were the primary components of the solution:
Product Search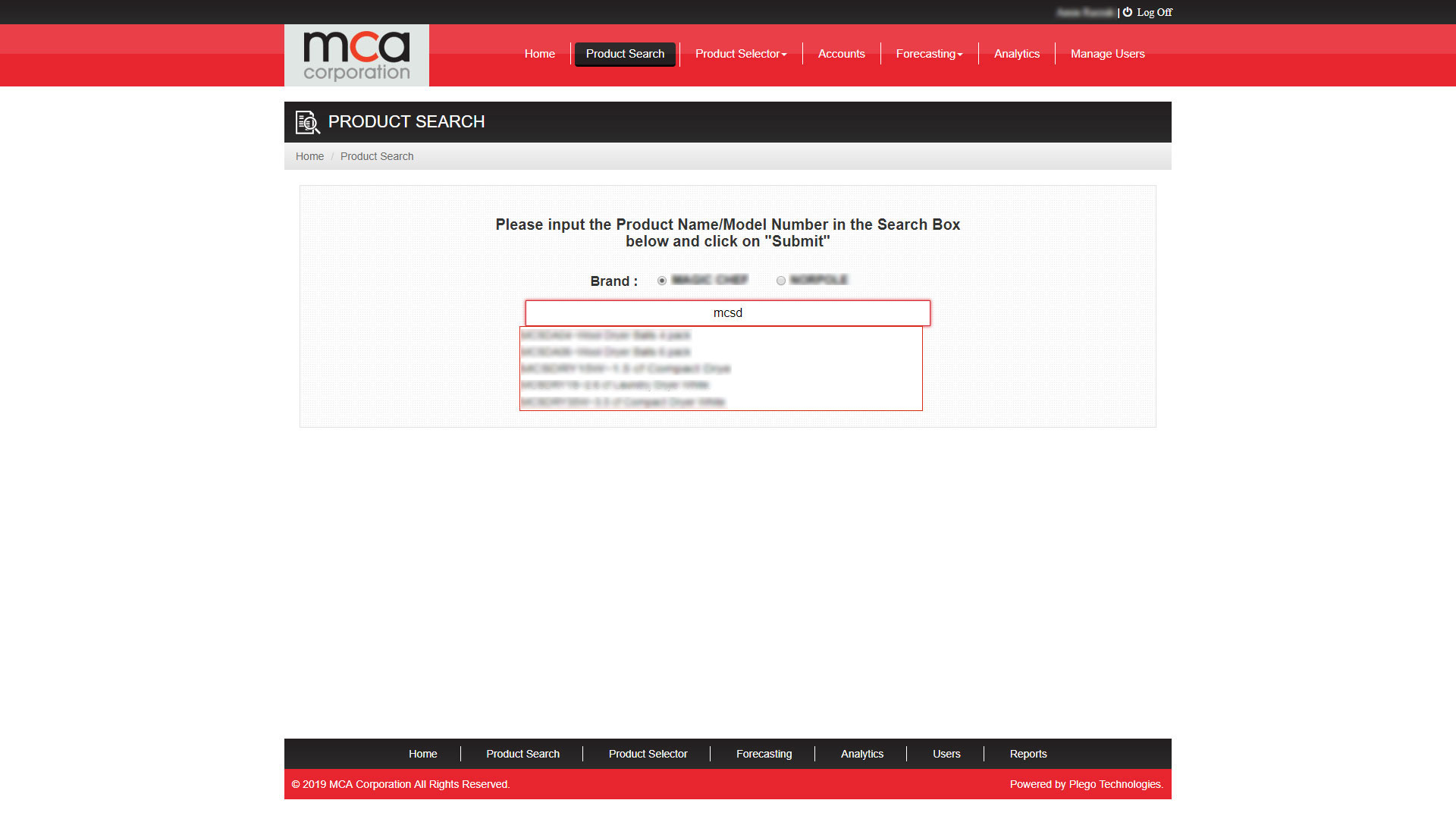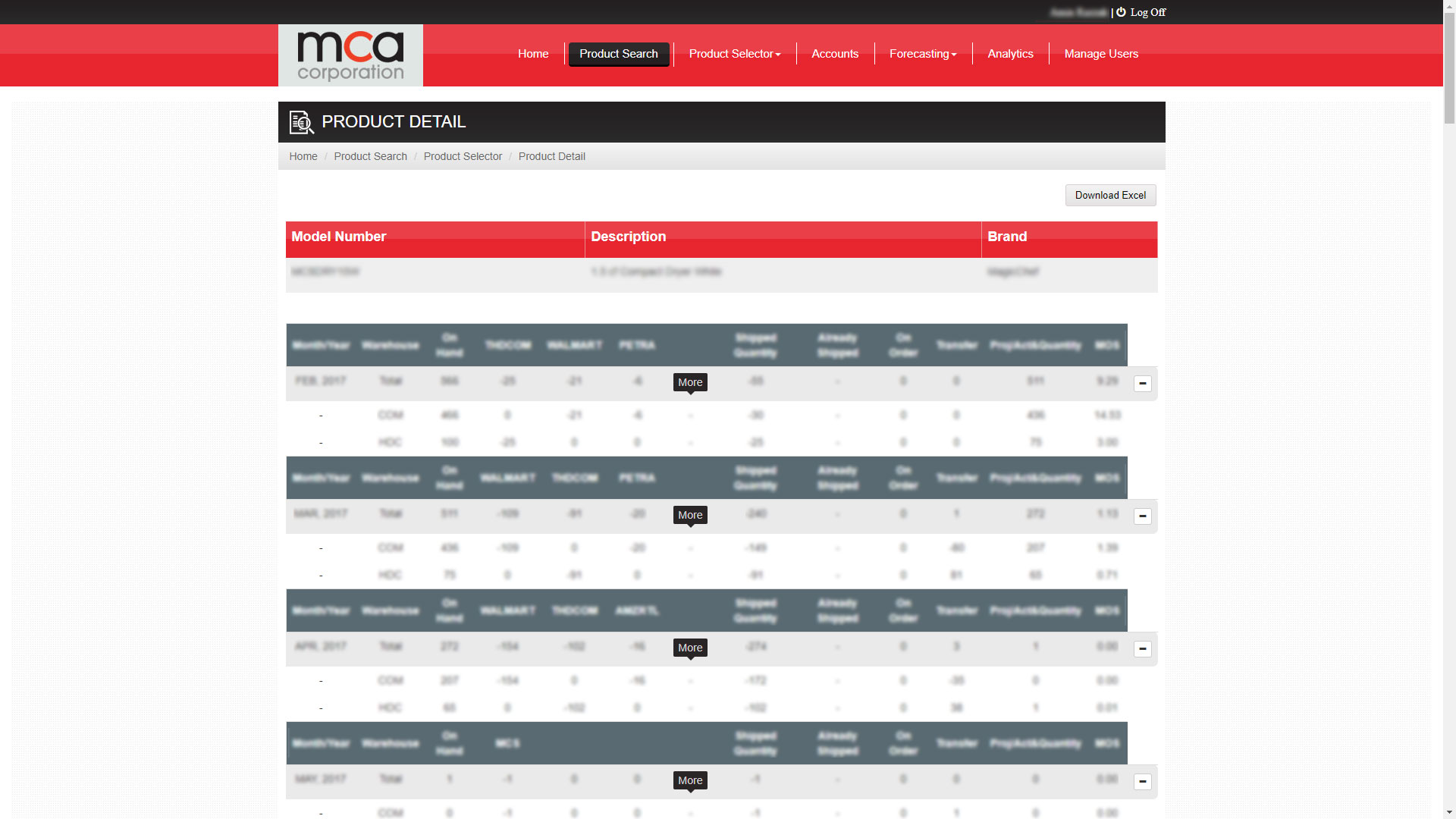 Features: Multi Brand, Predictive Search, Real Time On Hand Qty, Projected Qty's, Shipped Qty's
This data is retrieved directly via the custom MAS API. Other data such as product details, on hand information, shipped qty, transfer, on-order, end quantity, and month's supply is calculated based on data retrieved from MAS.
Product Selector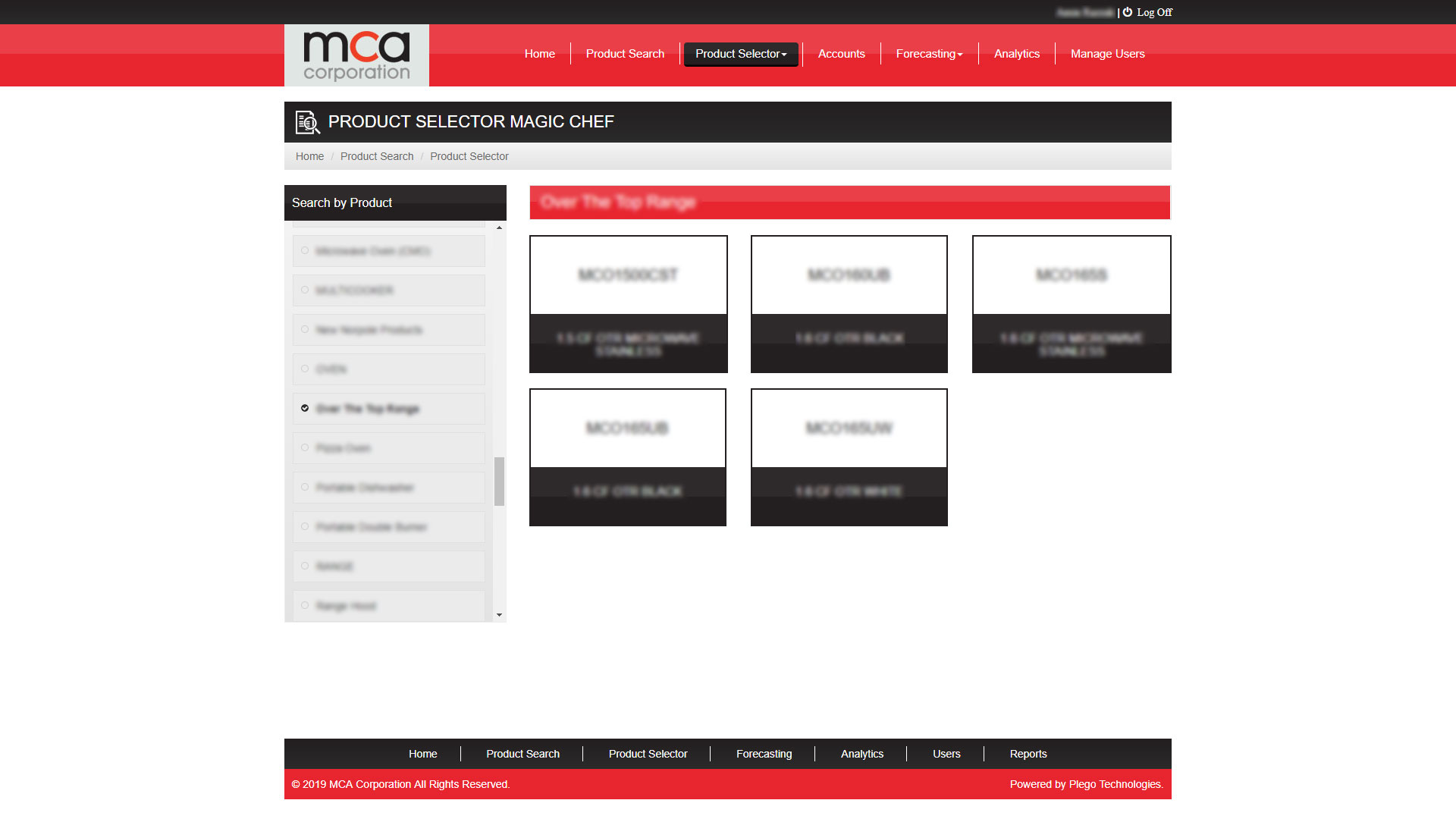 Features: Select by Category, Grid View
Accounts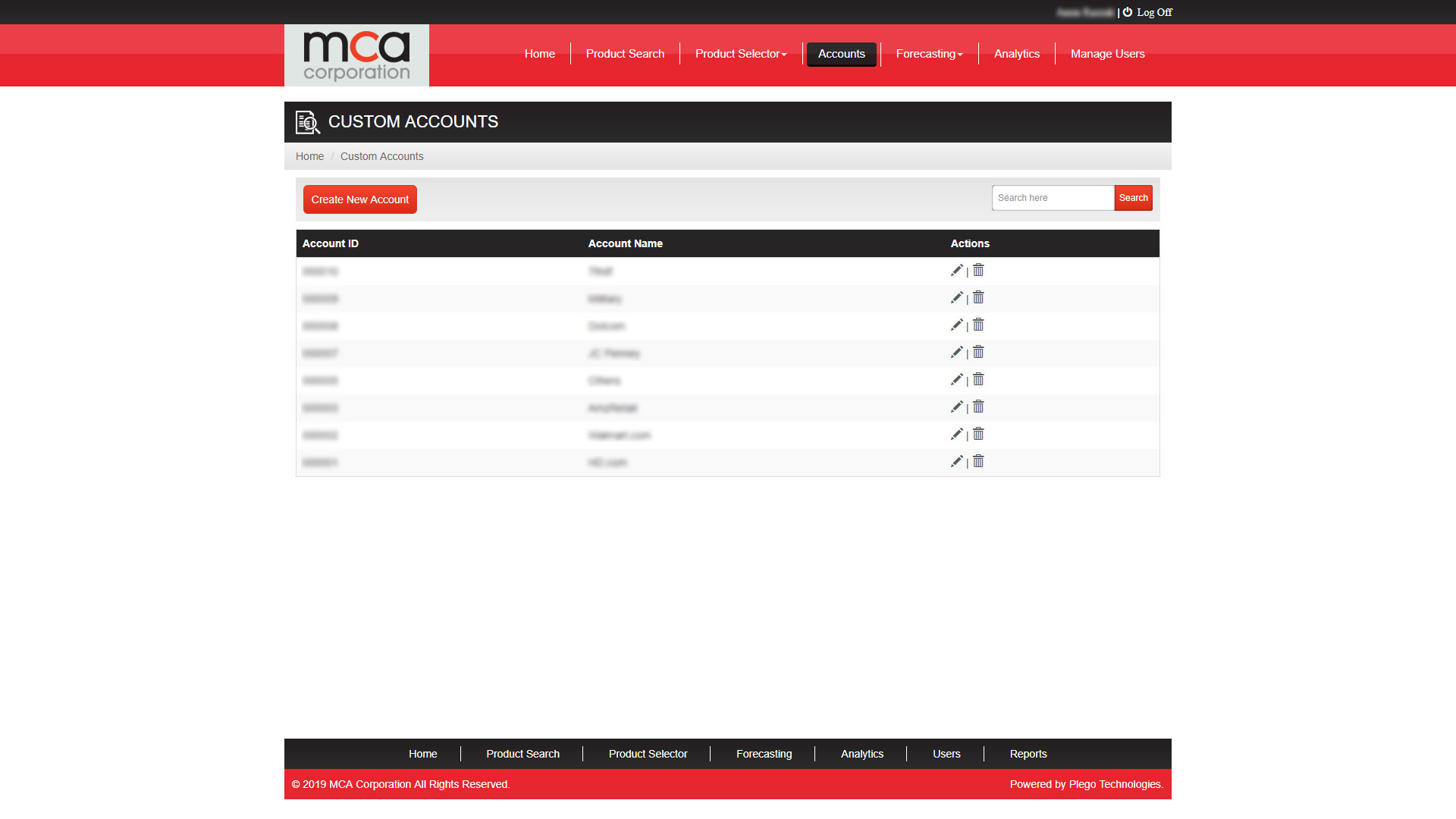 Features: Full account management capability. Accounts can be added, edited and removed from this interace.
Forecasting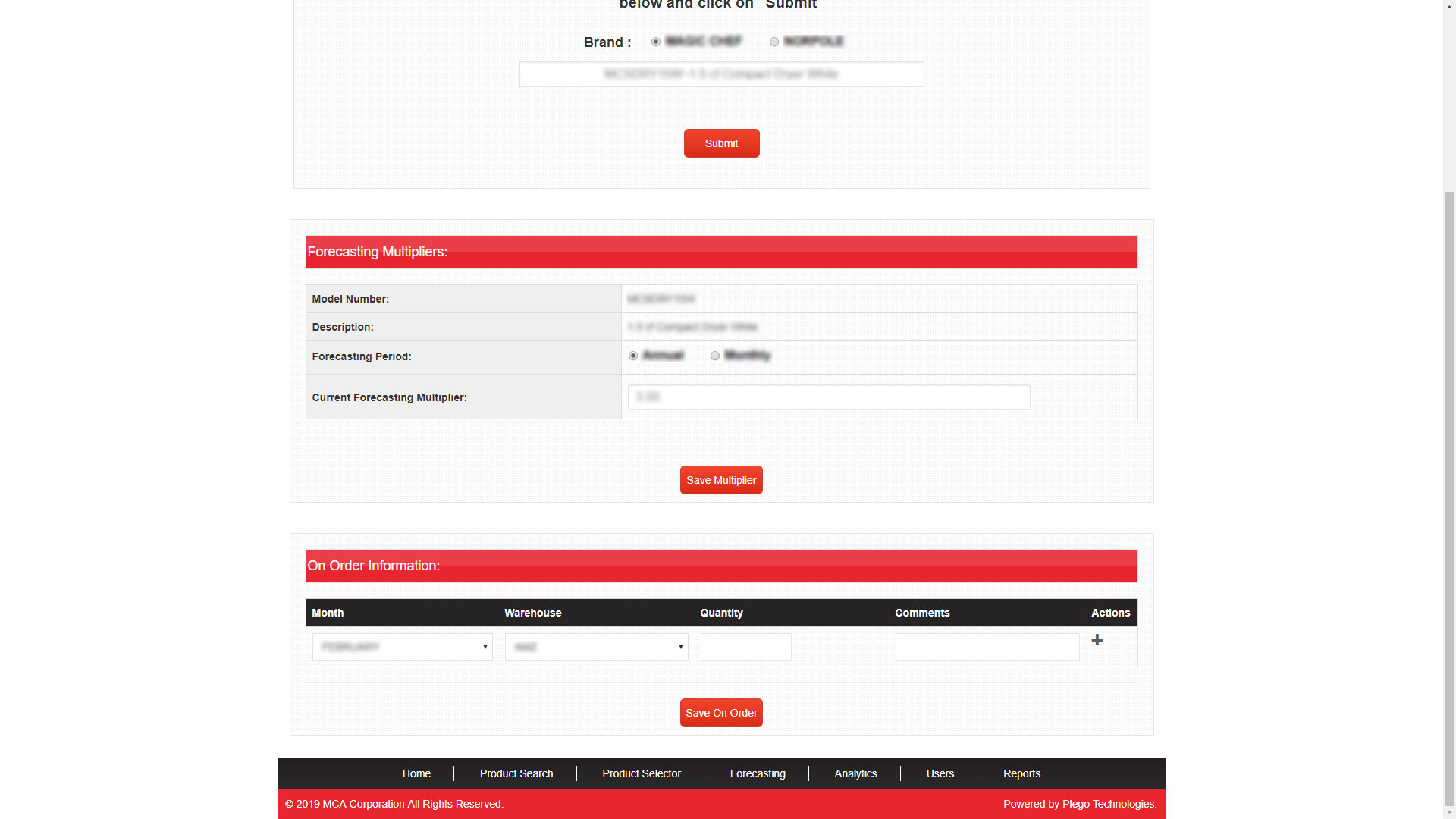 Features: A Forecasting tool was created which allows Magic Chef to analyze future product inventory and sales data based on past metrics. Data from multiple time periods is used to forecast the product inventory and sales data.
The forecasting module also provides the ability to modify the forecast by product based on anticipated or calculated growth percentages on a year over year basis.
Analytics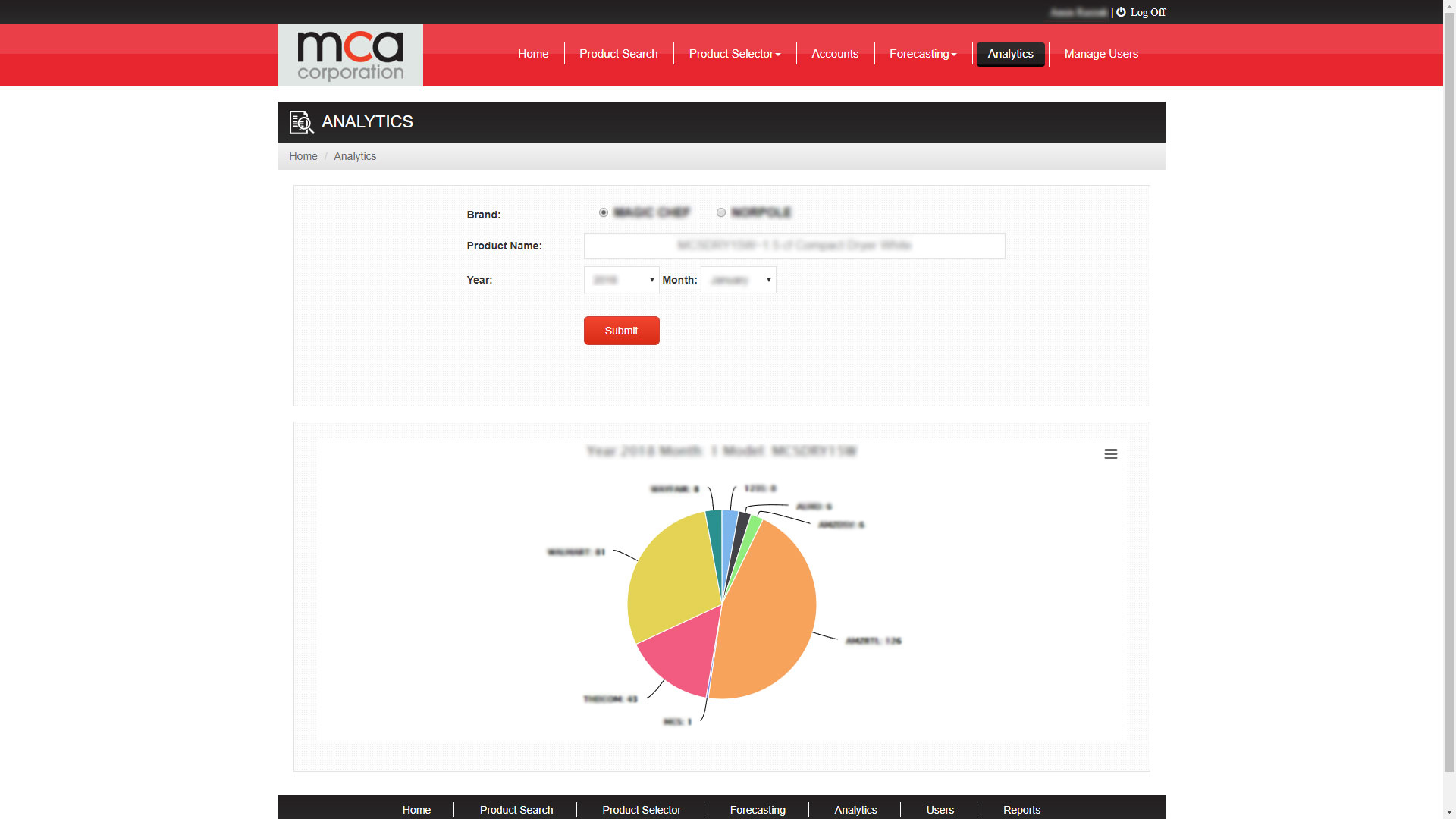 Features: Custom Charting, Forecasting, Channel Breakdown
Technologies Used
Services Provided
Microsoft Application Development Services