Higher Learning Commission – HLC
HLC – Joomla CMS 4, HTML5, Bootstrap 5

Client Profile
The Higher Learning Commission has a long history of ensuring educational quality in the United States since its inception over 120 years ago. As an independent corporation and one of six regional accreditors, HLC accredits degree-granting post-secondary educational institutions in the United States.
Client Industry
Education
Business Challenges
HLC faced the critical task of modernizing their website to ensure continued sustained support with seamless performance. Upgrading to Joomla's latest version and supporting PHP Version 8.x were imperative measures needed for successfully running contemporary web-based technologies.
Solution
With the ambition to move forward and maximize efficiency, Plego undertook an extensive project to upgrade their website. The task included exporting a full database of information, implementing a new theme design, and installing Joomla 4 CMS with its data imported on top. Complications arose as many extensions and modules weren't compatible with this most recent version – yet our team persevered through these challenges for stunning results!
Customized modules were not compatible with version 4 and theme code was obsolete for use on PHP 8. Undeterred by these barriers Plego made sure that every step required was taken to ensure success!
To achieve success, a series of steps were carefully implemented.
Backup
Our team acted swiftly, creating a secure backup of the live Joomla 3 website in no time – ensuring all necessary components such as Database, Modules, Components and Plugins were safeguarded.
Testing Environment
We developed a comprehensive testing environment for optimal performance and successfully restored the backup of previous 3.x site.
New Template and Theme
Plego seamlessly upgraded the theme, outfitting it with a fresh new template for an aesthetically pleasing and user-friendly experience.
Disabling Redundant Plugins
To ensure the utmost security and effectiveness of Joomla 4 with PHP 8, we proactively disabled custom plugins or extensions that were redundant. 
Enabling Essential Plugins
Our team utilized their expertise to create a fully optimized web experience for Joomla 4 and PHP 8. Through enabling plugins one by one, we successfully completed the code transformation necessary for compatibility.
Optimization
Our team optimized HTML content and articles to ensure their compatibility with the latest version of Bootstrap. Providing streamlined user experience for the visitors.
Dashboard Comparison
Joomla 3 dashboard (Before Migration)
Joomla 4 dashboard (After Migration)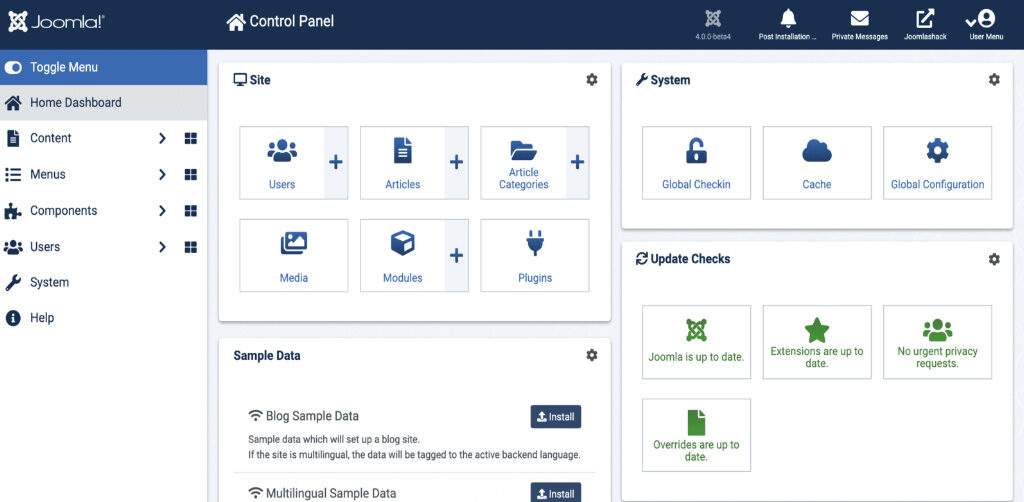 Technology Used
Joomla CMS 4, HTML5, Bootstrap 5
Services Provided