Hollywood Blvd Cinema
Hollywood Blvd Cinema: WordPress Website

Client Profile
Hollywood Blvd Cinema is a Movie Theater and Restaurant with Online Seating reservations that offers Innovative Theme based Theatres with a variety of features to enhance the movie going experience.
Hollywood Blvd Cinema offerings include the following:
Multiple Screens of Entertainment
Warm appetizers – While watching a Movie
Arcade Games for Visitors
Custom themed Events
Client Industry
Entertainment
Business Challenges
Hollywood Blvd Cinema had the following challenges with their website:
They were dealing with a cumbersome CMS that was difficult to manage
Integration with third-party ticket management system was not consistent, with customers having issues properly completing the eCommerce checkout process
Needed to enable online purchasing of Gift Cards
Solution
Plego Technologies designed, built and completed a custom WordPress based Web Application by integrating the latest technologies that provided Hollywood Blvd Cinema's users and staff a more updated and efficient website browsing and management experience.
The goal was to successfully remove the site from a proprietary CMS and migrate it to the more intuitive and user-friendly experience of WordPress.
Some of the features are highlighted below:
Ready Theatre System

RTS Based Online Ticket System introduced – Ref (www.rts-solutions.com)
Desired Seats, Timeslots and Shows could easily be managed with one click

Listing the Business portfolio and services

Sections for the Portfolio are incorporated within web pages
Services listed with classic layouts

Payment Integration

Introducing Latest Payment Integration Technologies to Unlock Business Growth
Unified Payments API
Seamless Checkout Pages with Strong UI/UX Layouts

Managed CMS Features (WordPress)

Empowered Client to edit and modify content easily, including (Header, Footer, Menu and Other Page Details)
Graphical user interface tools pioneering Performance, Scalability and Flexibility

Virtual Tour of Theme based Theatres

HD Images incorporated enhancing the real-time experience of users online

Birthday Pass Feature

Users can obtain Passes with Barcodes and Redeem them in person
Passes award eight gifts per year and cannot be used once they have been scanned

Membership Form

Availability of Membership forms against theatre services
Home
The Header of the website is composed of a Logo with a strong slogan, Address, Contact Number, Membership Access and links to Blog with Social Media Platforms
Dynamic Banner slider with crafty layouts provides a look into trending features and events
Main Menu describes Hollywood Blvd Cinema's featured sections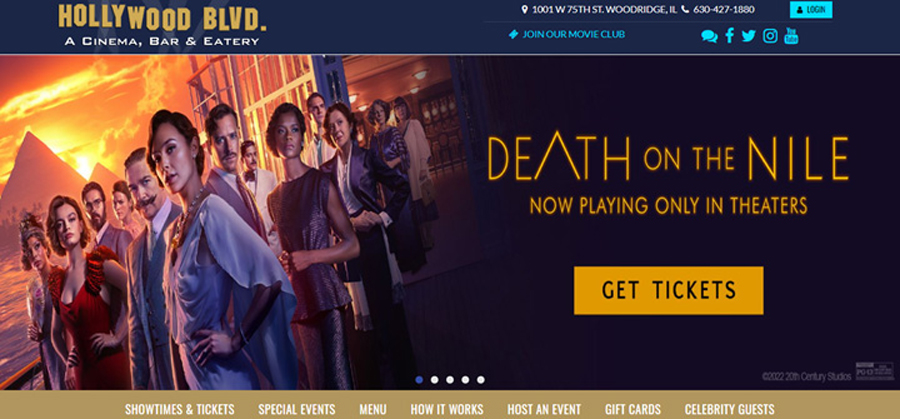 Movie timings available on homepage.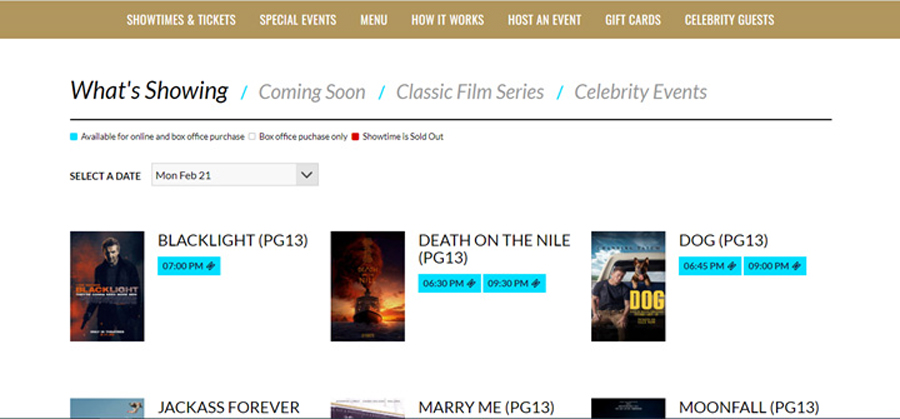 Upcoming Events contain links inside the slider.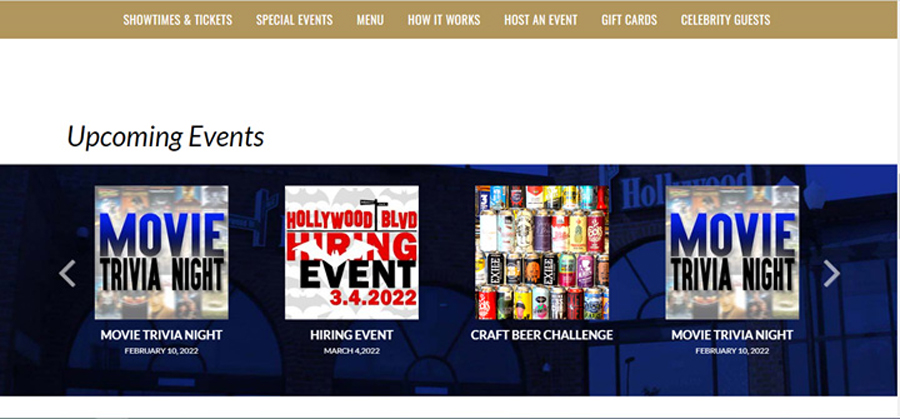 Trending blog articles are featured.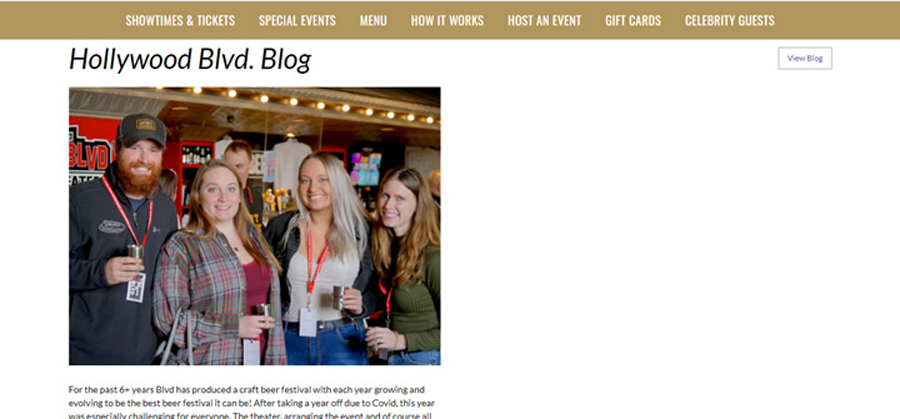 Daily Special Deals are featured.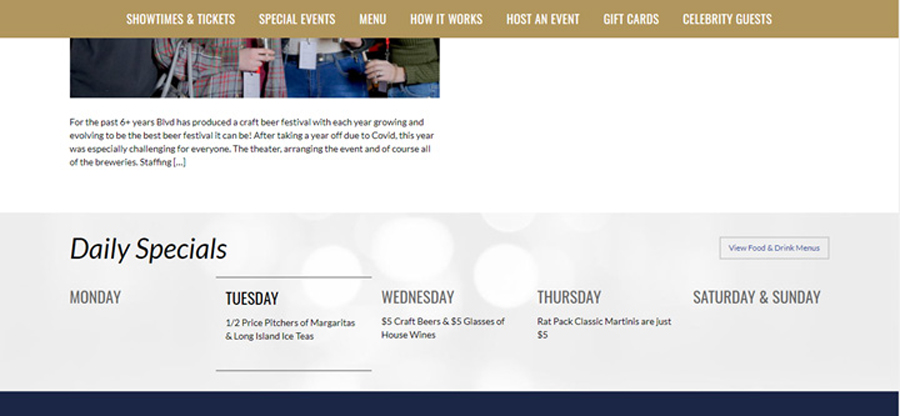 Footer Menu deals with the following features:
The section comprises different features Blvd offers with the link attached to the poster design
Internal links:

Direction – (Map of the Location)
FAQS – (Question and their Answers)
Employment – (Form)
Donation & Fundraisers – (Free ticket requests from Non-Profit Organizations)
Parties – (Private, Rental, Sporting Events, Gaming & More)
Contact us – (Form with all the essential Information required)
Social Media Links
Available Payment Methods
Showtimes and Tickets
Section allocated for Current and upcoming Movies with poster designs and internal links.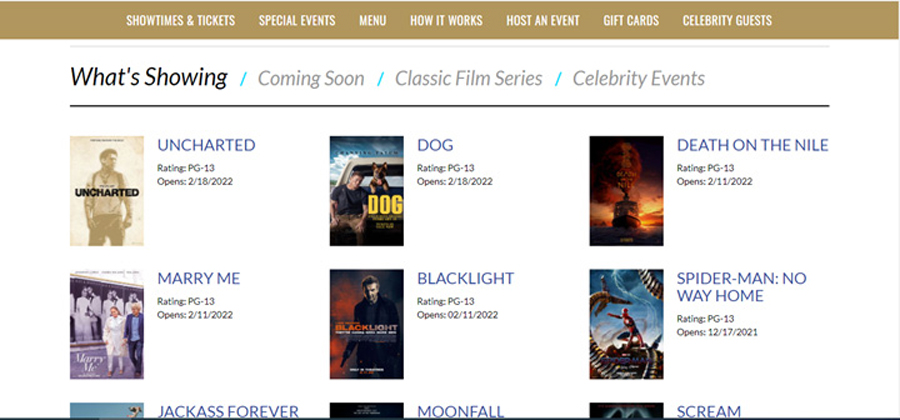 Upon clicking on any poster, the web app redirects to the movie detail page:
Ticket Availability of showtimes Online/Offline
Ticket Price Summary
Description of Movie
YouTube link of Movie Trailer embedded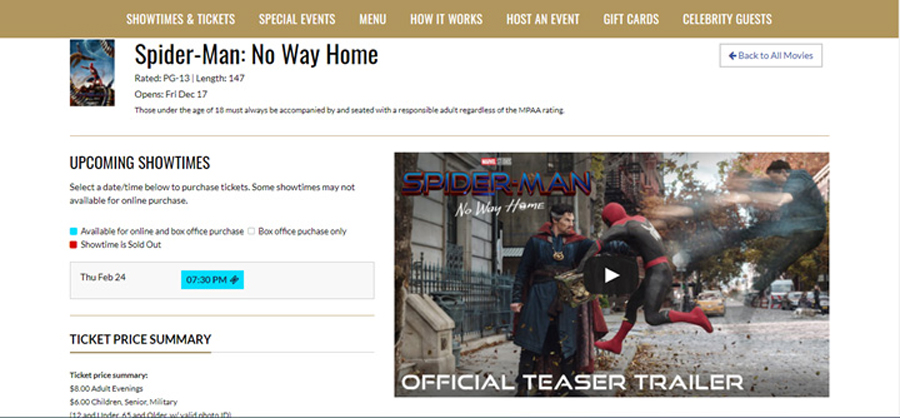 The page redirects to tickets detail page upon clicking on an available time
Features include:
Reconfirming the Correct timing
Button Highlights a Checkbox of an Agreement
The page also shows a Link to review pricing detail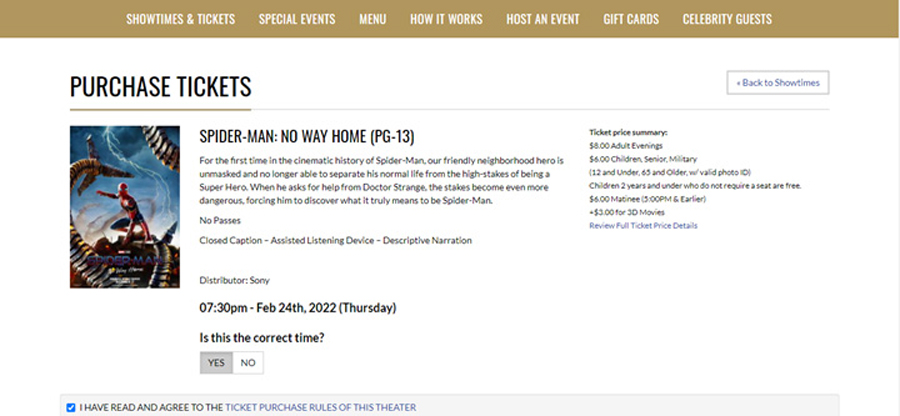 Plego Technologies executed modern interface design to unlock the real-time ticket purchasing experience for online users.
The complete process of purchasing the tickets online is defined below:
RTS Based Online Ticket System integrated
Client gets access to Desired Seat, Timeslot and Movie that can easily be managed with one click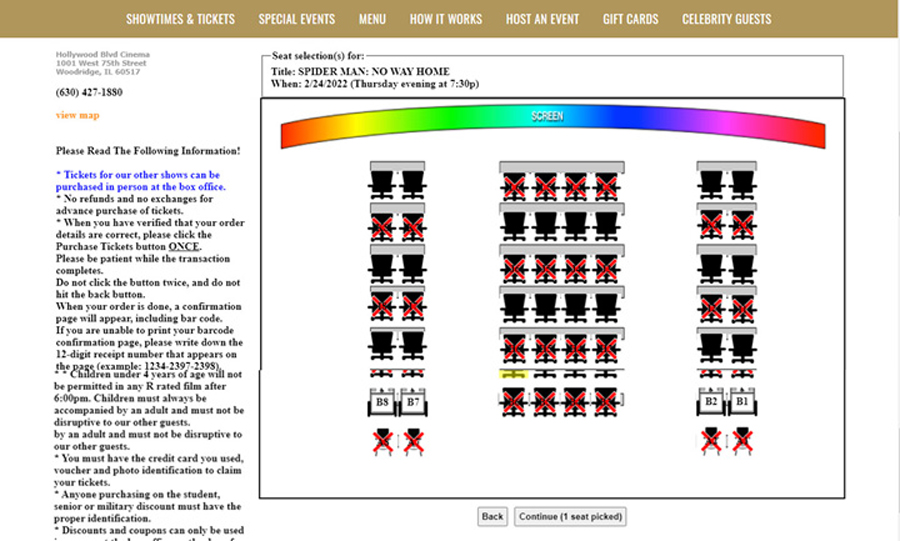 Ticket type Dropdown box appears with click on a continue button.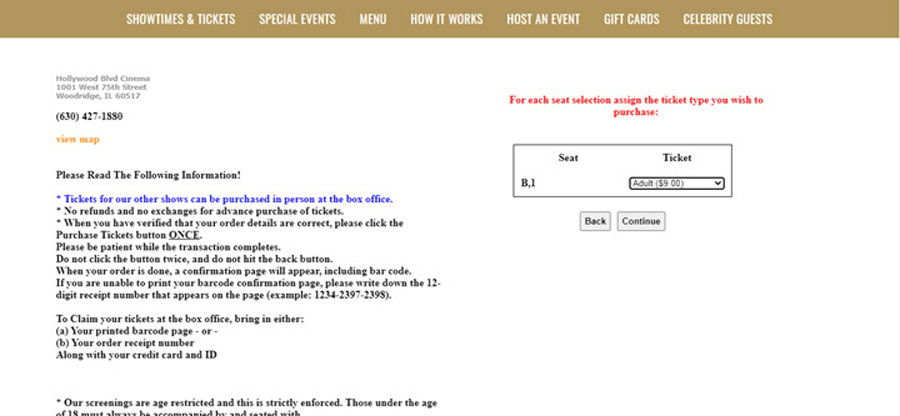 Continue button passes through the Checkout page with features below:


Special Events
Movie Trivia Night
Hiring Events
Craft Beer Challenge
Theater Menu Section
This section provides a complete detail regarding availability and prices of the following:
Food Menu
Drink Menu
Daily Special Deals
Themes
Section that provide insights to the themes that are present within their theaters
Users can browse the theatre themes with HD Images popup on click
The Crypt
Section reserved for deceased entertainment Heroes for tribute and acknowledging their contributions
Host an Event
Information about Hosting an Event at Hollywood Blvd Cinema.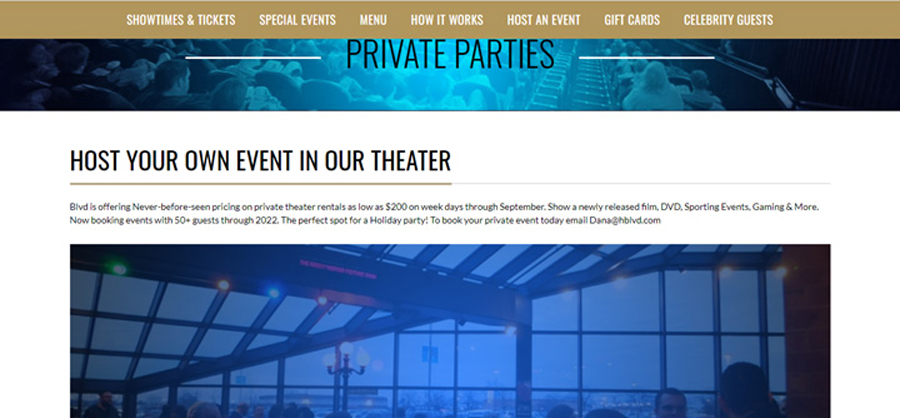 User is prompted to select their desired category.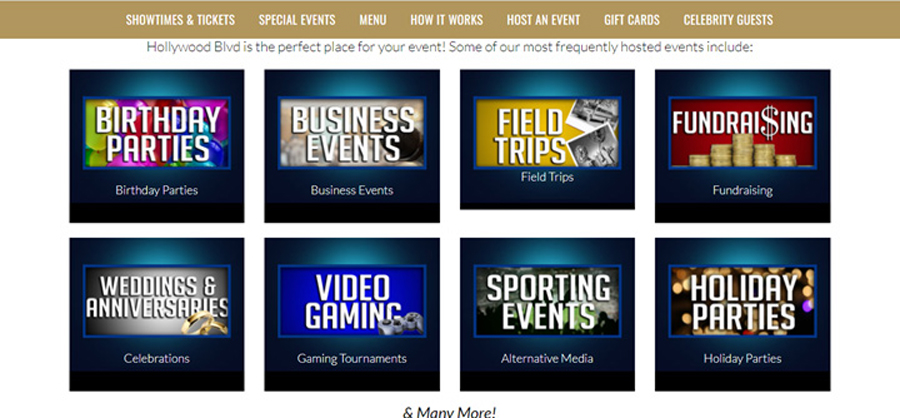 This Section Demonstrates the type of event with included features.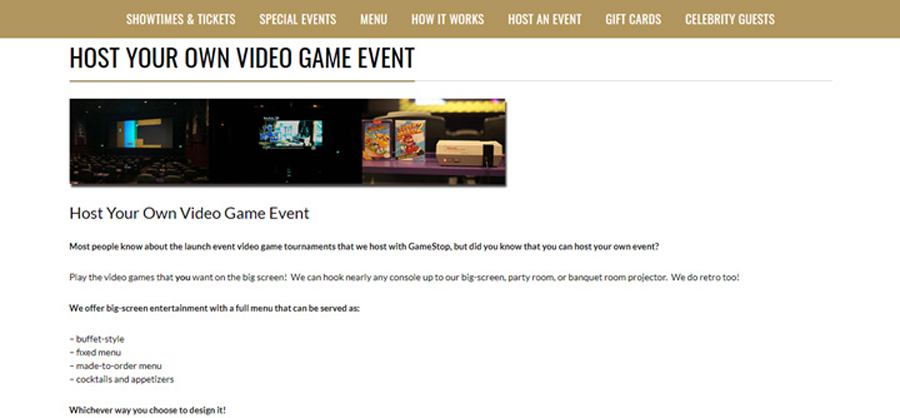 Form needs to be filled out to initiate the request.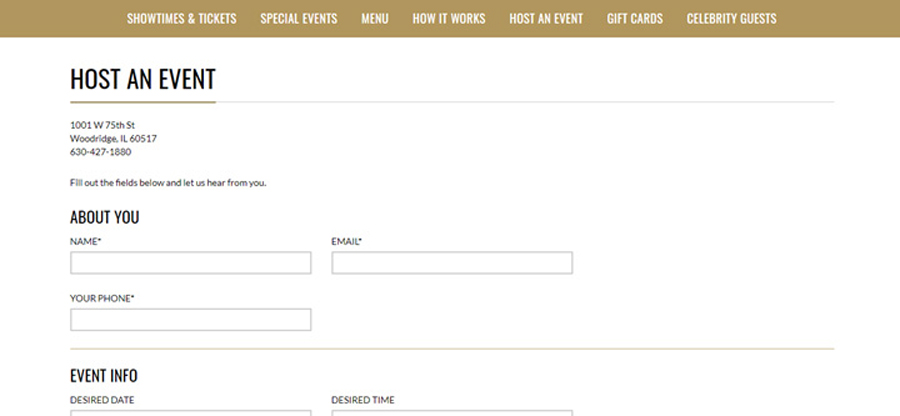 Gift Cards
Gift Cards can be Purchased Online
Recipient information Form
User Information to be filled out before Checkout
Screen to Check Available Card Balance
Celebrity Connection
A Complete Photo Gallery of Celebrities that have visited Hollywood Blvd Cinema
Thumbnail Pops up on a click with Information blurb
Technologies Used
Read Theatre Systems (RTS), WordPress, PHP, MySQL, JQuery, JavaScript
Services Provided
Website Design & Development, Integration