Web Applications That Deliver Real Business Solutions
Scan Am – EMR Solution for Hospitals
Managing Team Response Application
Client Profile
Scan Am has been a pioneer in advanced public health and safety communication systems. They have introduced many emerging technologies over the years, and many have become definitive business standards. As a dedicated vendor designing, installing, and servicing these critical systems, they can satisfy almost any request whether department, building or campus-wide in scope.
Client's Industry
Medical Software
The Challenge
The challenge of this project was to create an application that automates processes that help Hospital Care Technicians respond to patient needs in the most timely and efficient manner. The fact that hospitals still used dry erase marker boards to update patient schedules, precautions and other relevant information was a troublesome one that was affecting the quality and accuracy of the information immediately available for a patient. It was Plego's task to provide Patient Care Technicians accurate real time patient data inside and outside the patient room.
Solution
Plego developed a custom five part EMR solution for hospitals that included the following:
MTR™ Supervised Precautions:
Centrally supervised and managed control of precautions displays for each room. No more messy or out-of-date notes posted on the doorways.
MTR™ Patient Room Boards:
Remotely update and manage bedside notice boards in individual patient rooms. Inform families of your patient's progress, whereabouts, and plan of care. Dynamic alternative to dry erase boards.
MTR™ Hourly Rounding:
Increase staff efficiency by automatically counting down from the last visit to each room and reminding caregivers to visit again. Customized timers for each bed, plus suspend functions when the patient is away from the room.
MTR™Management Reports:
A comprehensive consulting and reports management package for improving response to nurse call light activity and hourly rounding statistics. Team's progress is tracked through reports and fully automated charts and graphs.
MTR™Electronic Whiteboards
The Electronic Whiteboards replaced unit status board with centrally maintained and automatically updated electronic chalkboards.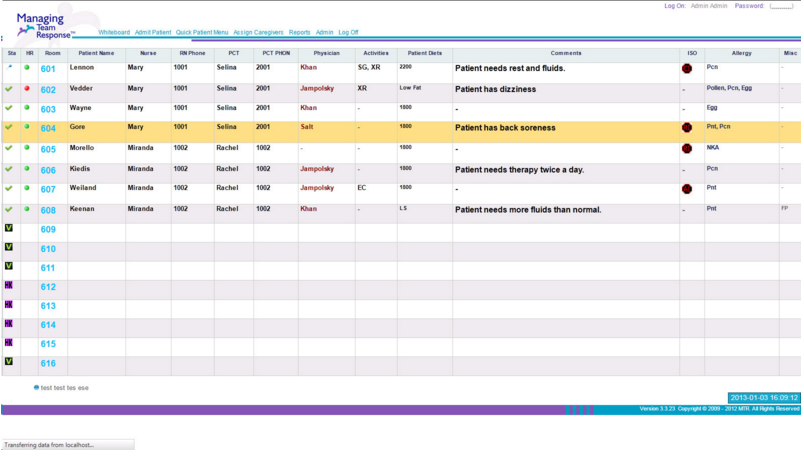 Above is the Electronic Whiteboard which is centrally maintained and contains all the necessary patient information.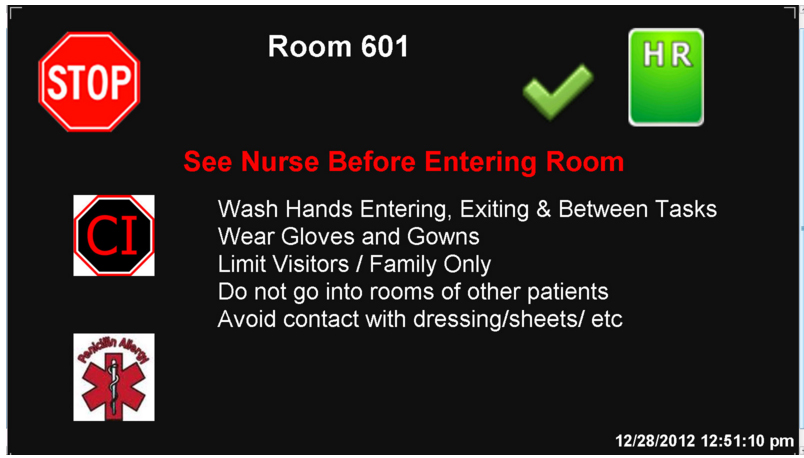 Above is the precautions screen that is displayed outside of the patient room and can also act as a room number sign. Before entering, all staff must review this screen and make sure all necessary precautions are followed.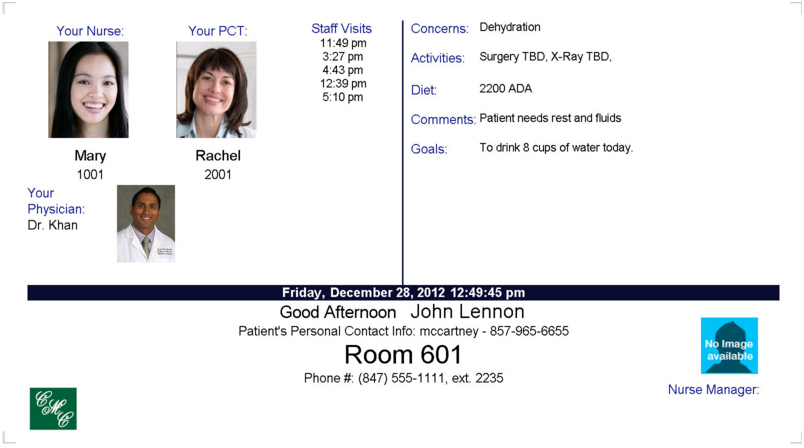 Above is the patient room notice board. This screen is displayed inside the patient room and lets the patient and other staff know who the assigned caregivers are, if there any activities scheduled for the day, if the patient has any goals to accomplish, and it also displays time and contact information.
Technologies Used
Ruby On Rails, PHP, MySQL, CakePHP, JQuery, JavaScript
Services Provided